There's a lot of debate as to whether you should coil your climbing and rappelling ropes or just stuff them into bags, but no one debates how to store and transport them. The easiest way to transport ropes happens to be the best way to protect them as well.
You definitely don't want a bag that will only fit your rope though, and all of the climbing-related sports

require a lot of gear. Here are the backpacks that we actually use for these sports (and the ones we'll buy next time around).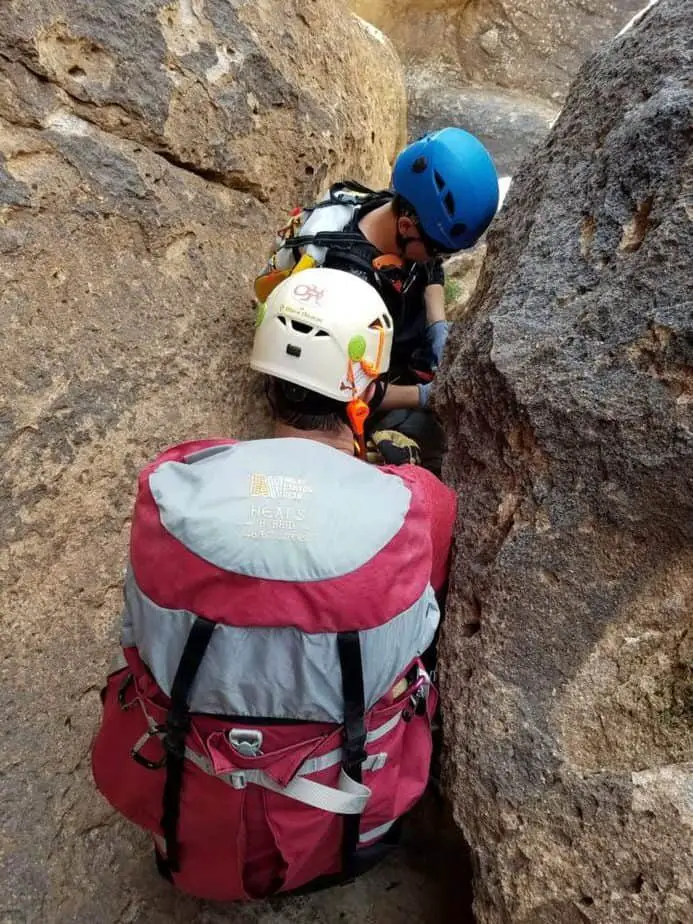 Best Backpacks for Canyoneering:
A good canyoneering bag pretty much has to be bulletproof. These things absolutely take a beating! They have to withstand sandpaper-like abrasions, explosive drops from great heights, and endless submerging in inhospitable water sources.
The bag needs to hold up against all of these dangers, and also be able to drain so that you don't drown in a swimmer

. As with most canyoneering gear, the variability in canyon types and conditions makes it so there isn't one 'perfect' bag. Here are the bags that I use for different conditions.
Canyoneering Backpack
I have tried a ton of different backpacks for canyoneering over the years, and I mostly recommend features instead of a specific pack. When going with just 2 people, you have to carry a couple of big bags to hold the rope and all the gear you need. With a group of 5 or 6, everyone pretty much just carries one small bag.
Because of the variability, I usually just encourage people to bring a sturdy day hiking pack (like a camelbak). Depending on the size of the group and length of the trip, the pack needs to be between 15 and 45L. The smaller you can go, the better.
Sturdy abrasion-resistant material and seams
Drainage for swims
Enough space to carry everything you need.
External loops to clip helmets & harnesses onto, but not too much that they get caught
Comfortable enough for a strenuous hike, and tight enough to your body that they don't throw off your balance
Our Choice: Edelrid Canyo Mountaineer bag is awesome for all wet canyons (Class B, Class C). It's extremely durable and has good drainage. 50L is a lot of space, too.
Amazon: Edelrid Canyo Mountaineer 50L

For a backpack specifically designed for the rigors of canyoneering, you probably can't go wrong with any of the packs made by Imlay Canyon Gear

as well, but they're harder to come by. Rodcle

in Europe also makes some good gear, like the pack shown above.
Canyoneering Rope Bag
For a general rope bag, I use the Liberty Mountain Hansen Rope Bag. This is probably the simplest bag on the market, but it's worked very well for me. It holds my 60m rope and has enough room to spare in the top to fit a few inches of gloves.
The bag dries out very quickly because of the simple construction, but is thick enough that I'm not worried about it wearing through any time soon. The seams are strong, and I haven't had a problem with them bursting when I toss it. I actually added some gear loops to the outside of the pack so I can clip hardware and wet harnesses on it.
The only downside of the pack is the drainage (or lack thereof). For wet canyons it gets pretty heavy. Someday I'll probably punch some holes in the bottom to help with the drainage, but all in all I love the pack, and love the price!
Amazon: Liberty Mountain Hansen Rope Bag

For wet canyons, the Sterling Blitz Canyon Bag is on my short list for the next bag I'll buy. It floats, and drains water easily. It doesn't have backpack straps, so it would have to go inside a bigger backpack.
Amazon: Sterling Blitz Canyon Bag

Dry Bag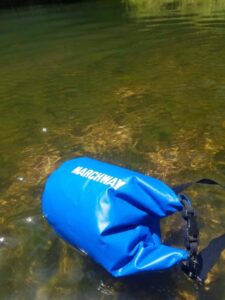 I was surprised at the current availability of good, sturdy dry bags online. It's nice when we can share gear with a more popular sport like boating! Instead of buying a big dry bag, I recommend buying a couple of different sizes of bags and putting them inside of your regular packs. They'll help you and your backpack float for swimming sections, and will keep important gear dry for swimming sections. A 5L bag is great for a phone,, gps, keys, wallet, and a map. A 10L bag is nice if you need to carry the essentials for your whole group. If you have to access anything inside the bag during the canyon, be really careful when opening it so you don't get water inside accidentally.
Pretty much any brand will work for these, but make sure to read the reviews. Generally, the more expensive the bag, the sturdier the construction and more reliable they are. Look for one with a shoulder strap, because it's more convenient to carry. Usually you'll just tuck them inside a bigger bag, but sometimes it's nice to separate them as floaties.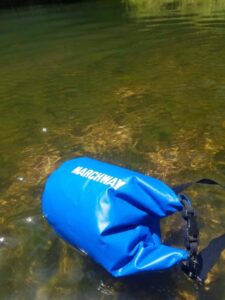 Amazon: Marchway Floating Waterproof Drybag

Best Backpacks for Climbing:
I include 2 different bags here, because climbing rope bags are designed for two different purposes- either gym or crag climbing. For gym climbing, you're looking for ease and simplicity, and don't necessarily care much about comfort or weight.
When you have to trek into a far away crag however, you immediately regret an heavy, uncomfortable, or awkward pack. With either pack, the goal is to have a pack that will protect the rope and that has a tarp inside to catch the rope as the climber ascends.
Gym Rope Bag
I prefer a messenger bag-style backpack for my gym climbing rope bag. It's really easy to haul around, I can just clip my draws onto the shoulder strap on the outside of the pack, and it's pretty comfortable for a short walk. I even use my bag for outdoor climbing when the areas have a short approach.
The bag that I've been using for a few years now is the Beal Folio. It's been discontinued recently, but other brands have their version. I don't think there's a simpler design out there. The top flap of the messenger bag turns into the tarp when your ready to climb, and then tucks back into the bag to protect the rope and stay out of the way. The link below is for Black Diamond's version of the messenger-style rope bag.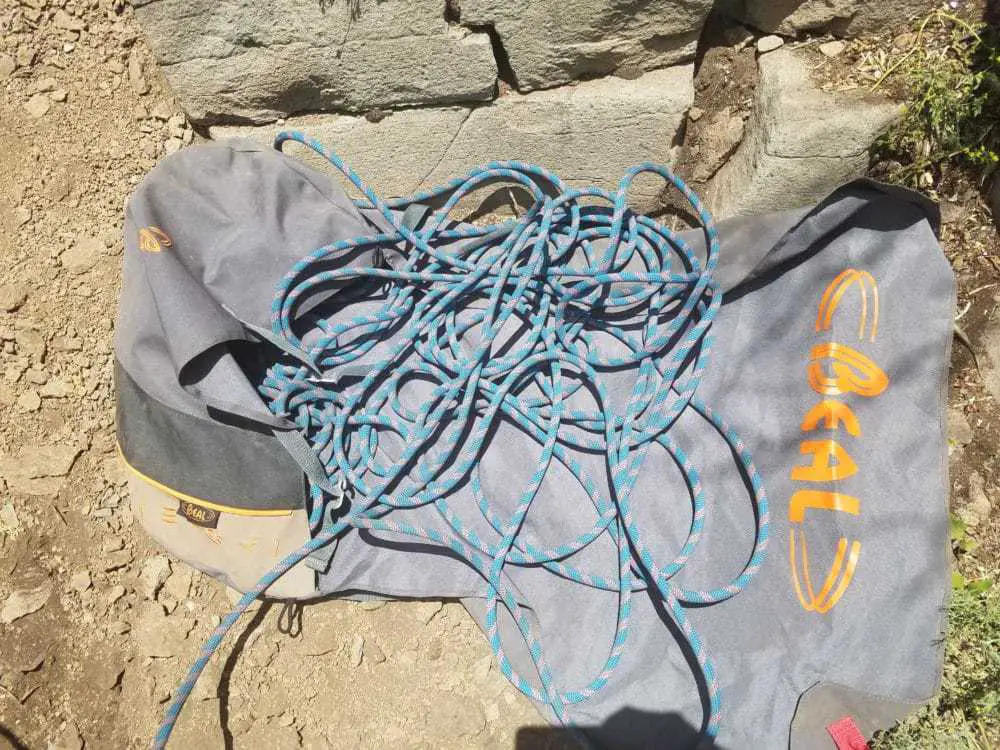 Amazon: Black Diamond Super Chute Rope Bag

Crag Rope Bag
A true "Crag" rope bag has a few different requirements. After a few long hikes with a messenger-style bag, I decided that a regular backpack style bag is better. Another option with the messenger bags is to just stuff them into a bigger backpack for the approach, and then use them as designed at the foot of the cliff.
You can pretty much pick any internal frame backpacking pack and use it to haul gear, but you really do need to use a tarp to keep the rope safe. I like a backpack with a built-in tarp that will fit your rope and still have some space for shoes and some hardware.
Amazon: Metolius Dirt Bag II