Using a Phone Camera for Canyoneering and Climbing
It's really hard to capture the amazing scenes that you see in a canyon. Some people make the effort to haul a big dslr camera through canyons in a padded dry bag, but to me it's too risky (and I don't have a nice camera like that). It's really tedious to take off your backpack, dry off your hands, open the dry bag, and fumble around for a camera each time you see something that takes your breath away.
Use your cell phone for pictures, keeping it safe in a waterproof phone case. Get one with a durable lanyard (or do what I did and use durable cord instead of the provided lanyard) and secure it to your backpack with a locking carabiner.
For wet canyons, pick up a camera float in case you drop it.  Having it all accessible in the side pocket of your backpack and secured to your harness is the best way to do it! It makes it easy to lock off mid-rappel

for some footage, too.
I have had a couple of different brands of waterproof case go out on me, so I recommend only doing this if your phone is at least water resistant and has a decent protective case on it. That being said, the brand I have right now has been really good though, and hasn't leaked at all. For about $20, it's a lot cheaper than the newest GoPro!
View on Amazon: N'turel Waterproof Phone Case View on Amazon: Chums Waterproof Camera Float

Action Sports Cameras for Climbing and Canyoneering
While cell phones have some amazing cameras these days, you may still want a durable camera that you can safely bring along on any adventure. Helmet cameras are the way to go! It gives a great perspective of your adventure without hindering your movement.
Adventure sports cameras have been more popular lately and now you can create your own sports videos with a camera that is lightweight and affordable. Most people are familiar with the GoPro camera, but there is some even better competition and there are cheaper camera options now.
Features to look for in a Sports Helmet Camera
There are a lot of cheap action cameras available, but before you buy- do your research and read this article! You won't necessarily be getting a good quality camera with the best resolution and sound.
High resolution – 4k is awesome
Durable
Waterproof – because you'll definitely need to grab some footage of your waterfall rappels, canyoneering swims,  and scrambles through wet canyons
Tough casings and helmet mounts
Simple to set up and operate – many newer cameras have Bluetooth capabilities to work from your phone.
Quality microphone – If the camera comes with a separate waterproof case, this often dampens the sound so be warned that your videos in wet environments will be sound-free. You can always add in some electronic music when editing your videos later.
Long battery life or rechargeable batteries -think about bringing a replacement battery with you on your trip as well. Often we will use 2 rechargeable batteries during a trip.
Not too expensive – you want to capture your incredible moments while having fun, not worrying about handling an expensive camera that isn't easily replaced.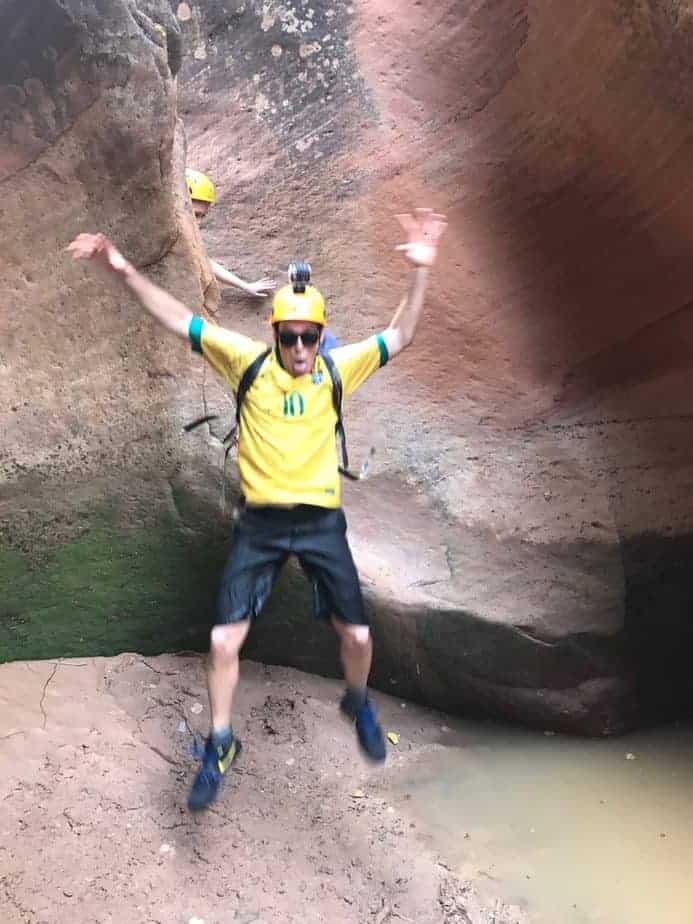 Best Action Sports Cameras
Here are the best action cameras.
Sports Camera Accessories You'll Need
Make sure you have the mountain accessories that you need for your camera. What are the best camera accessories? You can buy this sports accessories kit to go with your camera. I like having multiple mounts for the camera to get different angles.
Here are my favorites:
Chest mount- for hands-free photos from a cool perspective. Remember to face outward a few times to capture the scenery of your adventure.
Monopod handhold mount- Get one that is extendable.  Think of this as a upgraded selfie stick, but these will be the most amazing selfies you have ever taken because you'll be hanging off a cliff in midair from your rope. (Be careful when using this and make sure you are always safe before you dedicate one hand for the camera and not holding on. To be safe, have someone else film you)
Wrist strap mount- totally hands-free and shows a new perspective.
Helmet mount- you will probably get some of your favorite footage from this mount, make sure you fiddle with the angle of the camera first. Re-watching this footage will really help you relive those high adrenaline moments from your point of view! There are also head strap mounts available if you aren't wearing a helmet for some reason.
Floating handle grip- for any canyon with water or rappelling into water you will want one of these
After all…if you didn't get a picture did it even happen?