The main source of pride for most climbers and canyoneers, other than maybe the ratings of the routes they send and the canyons they descend, is the size of their "rack." We love to show off how much gear we've acquired over the years, and usually end up with several different pieces of equipment with the same function.
Most of it is purchased from pro shops and online, but everyone always ends up with stuff they 'inherit' from others and find abandoned at the crag. Some gear can be bought used, but you should always inspect it prior to use. Hardware can have hairline cracks nearly invisible to the naked eye that can cause them to fail with disastrous consequences.
Here's the list of Hardware & Belay Devices that we actually use, split up by activity: 
General Hardware:
Carabiners
Always carry a few more than you think is necessary. They always come in handy, and are a lot more convenient than a knot. You can even use a carabiner to rappel

in a pinch. There are generally two kinds of locking carabiners- Screwgate and Auto Locking. I prefer Screwgate carabiners because they're more difficult to unintentionally open while rappelling (as has been documented in several cases).
You have to develop and maintain the habit of checking to make sure the gate is locked when you do your final safety check before starting your climb or rappel. Screwgate biners have fewer moving parts that can get gummed up in a messy canyon.
The risk of going back and forth between auto locking and regular biners is that will lose the habit of screwing them closed. They perform very well, as long as you use them correctly.
Generally, all Screwgate Carabiners are the same so it doesn't really matter which ones you buy. I like these two because of the price point and the size of the ring.
Amazon: Grivel Delta HMS SG Anodized Carabiner

 (Center of Photo), Cypher Helios HMS Screwlock Carabiner

 (Right of Photo)
Quicklinks
These are extremely cheap small locking links. They are strong enough to tow a car, but are also really cheap so it's not a big deal to leave behind. You should always carry a couple in your anchor kit with webbing in case anchors need to be replaced, or in case you can't make it up a pitch lead climbing. I usually just pick these up at a local hardware store for a couple of bucks.
The important thing to look for is the size of the link (3/8″ usually), as well as the weight rating. Most will be rated for 2,000 lbs +, which is plenty for a rappel. These aren't designed to take lead falls or anything, but are fine to rappel off of.
Climbing companies all manufacture their own quicklinks as well, but they're a lot cheaper from hardware stores. Either way, leaving a quicklink on a cliff is a lot cheaper than leaving a locking carabiner or a Quickdraw, so always keep a couple on hand.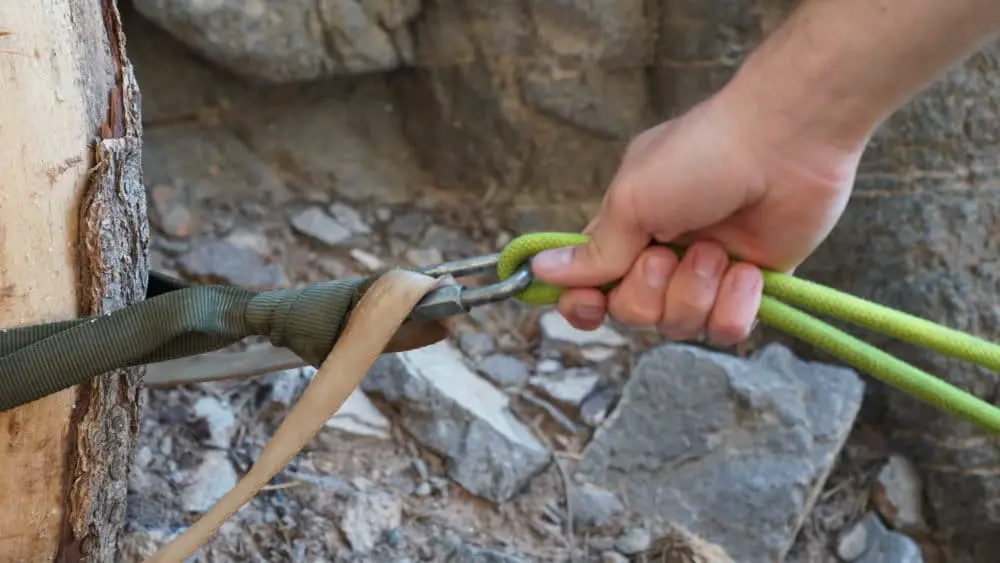 Amazon: Camp Oval Quick Link – Zinc- 10mm
Canyoneering:
Rappel Devices
Update: Read this article we wrote about different devices specific to canyoneering, such as the Hoodoo-SL, Imlay Critr2, and the Bluu Gnome Sqwurel. What is the Best Rappel Device for Canyoneering?

As mentioned in this article

, I used to prefer using an 8 Ring as my primary rappel device. They're universal, and versatile for lots of different canyoneering needs. You can rig one as an 8 block

, and can rappel with different levels of friction as needed.
I've been using this particular ABC Figure 8 for several years now. The paint has worn off in a few places, and there are even very light grooves that were caused from one especially sandy/muddy canyon. This is why 8 rings are great! They can be discarded without much thought for price.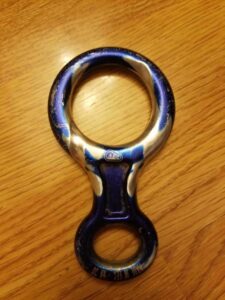 Amazon: ABC Figure 8 Polished

Another good option for a rappel device that I use is the Kong Oka. The main advantages are the ease of locking off a rappel once you've already begun to descend, as well as the ability to increase or decrease friction as needed. I still generally prefer an 8 ring (mainly for the price), but I've started using the Oka more and more.
Amazon: Kong Oka Descender

Rock Climbing:
Carabiners (auto locking)
If you are only a climber, you may consider just going to 'auto locking' route for carabiners. If you don't have to worry about rappelling and canyon muck messing up a carabiner, auto lockers work well. The traditional option has a sleeve that locks closed automatically.
In recent years, each climbing company has pretty much come up with its own variation of the auto locker, whether with different wire locks or with magnets. Personally, I prefer as few 'moving parts' as possible, but to each his own.
Amazon: Black Diamond Rocklock Twistlock Carabiner

 for a traditional auto-locking biner
Amazon: Black Diamond Rocklock Magnetron Carabiner

 for a magnetic locking biner
Belay Devices
An ATC, or Tuber, is your standard belay device. We go into a lot of detail about ATC's in this article

. ATC's are the most standard belay device out there, and definitely the most widely used. As mentioned in the article, there are several different types of ATC's, but I like the ATC-XP version.
Amazon: Black Diamond ATC-XP

A lot of gyms these days provide assisted braking devices like the Petzl Grigri or Beal Birdie (see my review of the Birdie here

). These are designed to help inexperienced and distracted belayers by stopping falls 'automatically.' They don't work with all rope sizes, but are generally considered safer than an ATC because they remove the human error element.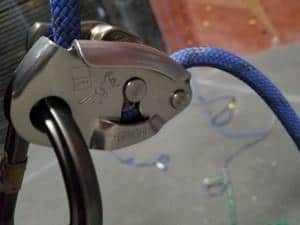 Amazon: Petzl Grigri 2 Belay Device

Quickdraws
Quickdraws for lead climbing and trad climbing come in a few different variations. Wiregate draws are a little bit lighter and usually cheaper, but I have some of both kinds. For sport climbing, a short 4″ sling is just fine. For trad, you may want it a little longer. It's always helpful to have an 'Alpine Draw' with a longer sling to reduce rope drag.
Amazon: Omega Pacific Dirtbag Draw Rack Pack – 6 Pack (regular)
Amazon: Cypher Ceres II Quickdraw – 6 pack (Wiregate)
Trad Climbing
If you're just getting into trad, you'll probably have to go with a full set of cams and nuts. This will set you back a couple hundred dollars, but you probably live in your car and aren't paying rent, right? Pick up a set of Cams (Camelots) and nuts.
Amazon: Black Diamond C4 Cam Sets

Amazon: DMM Wallnut Nut Set

Summary:
In the beginning there were only a couple of hardware companies that paved the way and standardized the majority of the equipment that we use today. Because of their reputations and track records, I have a lot of Black Diamond and Petzl gear.
While they usually aren't the cheapest option, climbing and rappelling gear is something that you absolutely can't risk failing. I have started to branch out and buy cheaper options as I've replaced a lot of my original gear, as long as they are still rated by the UIAA, CE, etc.