The decision to go from a tent to a camping trailer is a big one that I faced recently. I'd camped in a tent for years, but my family was outgrowing our tent and packing and unpacking everything was getting to the point where it was discouraging me from going out. We had to decide if it was worth it to buy a camper trailer.
Camping Trailers are worth it if you go camping at least once a month, if you have a family, or if you camp for multiple consecutive nights. For infrequent campers, or campers who don't have a place to store a camper, it is recommended to rent a camper instead of buying one. A Camper Trailer can also be a good idea for a summer vacation road trip.
I ended up buying a pop-up camper for my small family, but as a teenager my family also had a longer travel trailer and an RV for a few years so I've tried everything out and know the pros and cons. These are the questions you should answer as you decide if camper trailers are worth it.
What Makes a Camper Trailer Worth It
Like I mentioned, I found myself in this situation recently. We'd camped out of a tent with our small family for the past few years, but with the addition of kid number 3 we found that it was just getting too hard.
We talked about getting a van, but realized that there aren't great setups for families our size in a van. It's hard to commit to the upkeep of an engine that is only used at most a few times per month. Some sort of camper seemed like the best option, so these were the questions we had to consider.
Decision Factors for Purchasing a Camp Trailer
These are some of the questions we've considered at a few different times when we've looked into buying a camper.
How Often Will I Camp?
If you're only going to go out once or twice every summer, it makes no sense to buy a camper. You're much better off just renting one those few weekends and avoiding the headache of storage, maintenance, and depreciation. Tires wear out from sitting, the sun damages the roof, snow and ice damage lines, and seals oxidize and crack.
For a few hundred bucks you can rent a nice camper from Outdoorsy

and get out of town for a week (I checked at the time of this writing and a trailer runs at about $70 per day where I live). Alternatively, you can just tough it out and tent camp if you're only going to go a few times a year. A little bit of roughing it never hurt anyone.
On the other hand, if you're planning to camp once a month or more then it might make sense to get your own camper. You don't need to worry about availability on holiday weekends, cleaning fees, or the outrageous costs when your kids break something in it.
At about $100 per night for a rental, it will take me about 1 year of camping to have made my 20-year old tent trailer break even. Not a terrible investment for a cheap pop-up. For more expensive campers though, and especially for new ones, the breakeven stretches out to several years or even longer.
What are My Pain Points of Tent Camping?
Think about what you hate about tent camping. Maybe it's the comfort of your camp pad or cot, or maybe it's having to unzip the tent and go outside to use the bathroom at night. It could just be the hassle or rounding up all the camping gear and the endless set up and take down.
As you consider what your pain points are, consider if you can easily correct them for a hundred bucks, or if it's something that you need a trailer for. You can buy a nicer pad and organize your gear into bins, but you'll have to set up the tent every single time.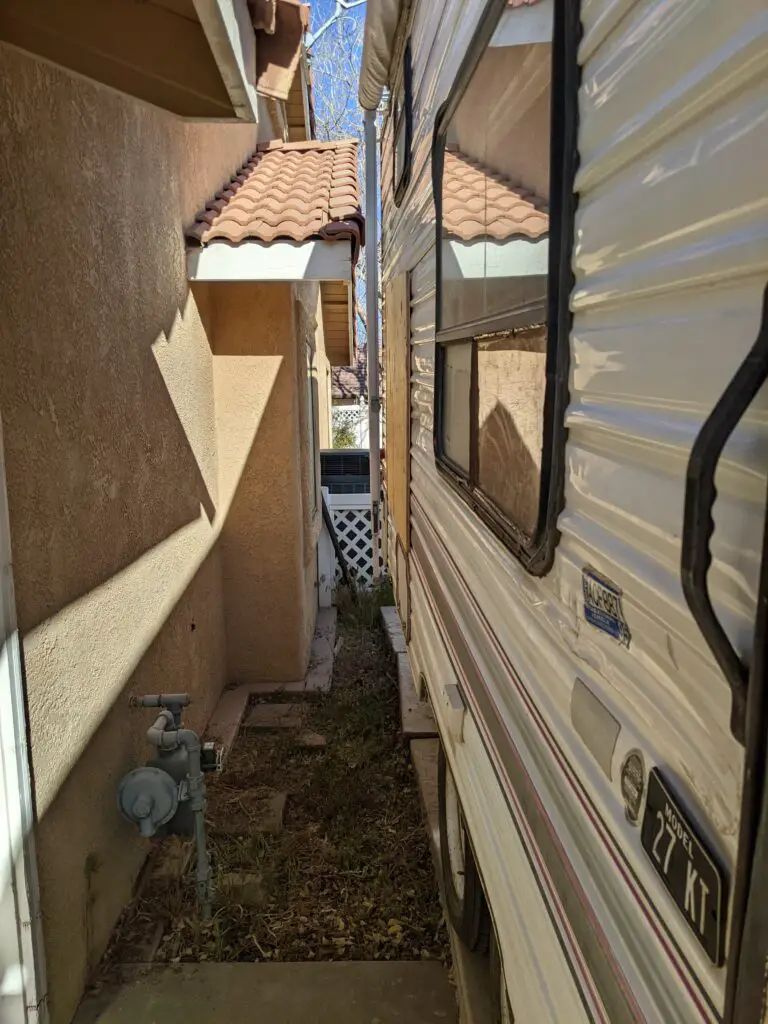 Do I Have the Space for it?
If you live in an apartment or condo, you probably don't want to be stuck with the hassle of finding a place to store your camper. You might find a friend or family member willing to let you park it alongside their house, or find a storage facility that doesn't cost an arm and a leg, but it's really annoying to have to go pick it up and bring it home before loading up for each trip.
I've got a gravel patch on the side of my house that is big enough for a small hard-sided camp trailer. I definitely do not recommend buying one as big as will fit, because it's emotionally taxing to try and thread the needle backing a big one into the side yard. Keep it simple and it'll make you more likely to get out often.
In addition to simple storage space, you have to consider the capability of your car to tow something. If you've got a big truck then you're fine, but if you've only got a van or small SUV, you're going to be pretty limited on what you can tow.
It's important to consider the weight of everyone and everything in the vehicle, and a fully stocked and loaded camper. The main weight is definitely the trailer itself, but everything adds up. You don't want to be stuck relying on an old vehicle with a lot of miles to tow a heavy trailer up steep mountain passes either. That's a recipe for disaster.
What Features Do I Need in a Camper Trailer?
Think about your main complaints with tent camping. Perhaps where you live it rains a lot, so you want a covered indoor space to cook. Maybe you just hate getting up in the middle of the night to go dig a hole for a bathroom (don't we all?).
With most smaller trailers you really have do decide which features are most important. You just might not be able to fit a toilet and a shower and a fridge and an air conditioner, as well as a double oven and a microwave.
If you plan to go on long trips and stay in official campgrounds then you may not need a shower, but you would want an oven and microwave for when you've got hookups. If you're more into boondocking out in the wild, then you may want that shower and the feeling of sanity it offers.
Decide with your family what your 'needs' are, and then consider what other wants would fit in addition. We decided to forgo the bathroom this time around since we just didn't want to deal with sewage and cleaning it, but that's probably something we'll want in our next camper when we have older kids.
Those who camp in trailers tend to fall into one of two categories. They either camp out in the wild every weekend, taking side by sides out or going hunting, or else they do more touring of the country staying in paid campgrounds.
If you prefer to boondock out on BLM lands, you'll want a different type of camper than you would if you plan to pull in next to a bunch of other campers and plug in for the night. The former might prefer a toy hauler or pop-up, while the latter would probably want an RV or hard-sided camper with bells and whistles that run on shore power.
Do I Want an RV or a Travel Trailer or Toy Hauler or a Pop-up Camper?
Once you've determined the specific features you'd like inside your camper, you need to decide how big you want to go and what shape will be best. To make the right decision you'll need to consider the storage space you've got, the size of your tow vehicle, and the amount of set-up you want to deal with.
An RV can be really nice if you'd like to be fully contained and want all the bells and whistles available. On the other hand, an RV is an absolute bear to maneuver and really limits where you can camp. You don't get a lot of the freedom of tent camping, including the feelings of remoteness and solitude.
Travel Trailers are a nice in-between for those who like the amenities of an RV but still want to have more flexibility and a lower price point. They come in all shapes and sizes, so you can easily get the features you want. The downside is the cost for gas to tow and the need for a bigger tow vehicle.
If you like ATV's or side-by-sides, a Toy Hauler is probably what you'd want. It's basically a travel trailer where the back drops down into a ramp for storing the 'toy.' Often the bedding can fold down from there into some type of bunks, or people will rig hammocks on the inside.
Pop up Campers (PUPs) aka Tent Trailers are a step up from a tent without requiring major life changes like buying a new truck or the upkeep of a new engine. They're light enough to tow that even some mini-vans can tow them, and the profile is such that it's not a lot of extra gas to tow. It does take about 20 minutes to get everything set up when you get to the campsite, which is about as long as it takes to set up a tent.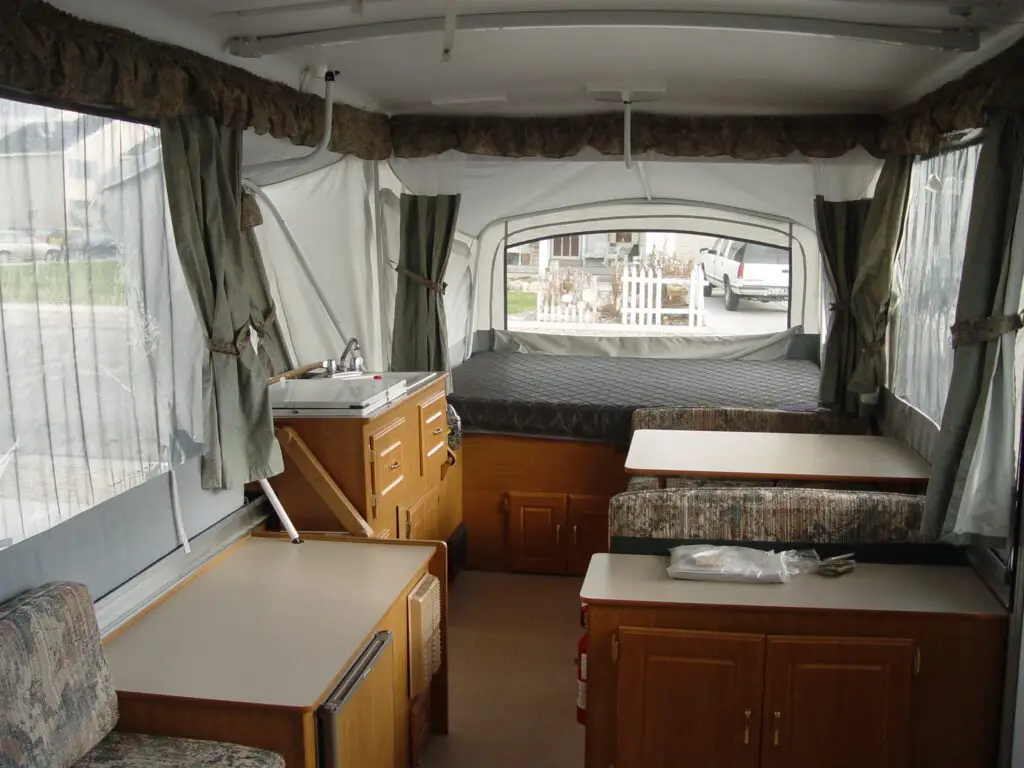 Things Prospective Camper Buyers Overlook
The cost of switching from tent camping to trailer camping is more than just the cost of buying the camper. We've addressed a few of them already, like upgrading your car and having a place to store it, but these are some more that you need to think about before taking the leap.
Insurance
If you buy an RV, you obviously need to add it to your car insurance and pay for it like you would a car. Since it has an engine, it needs to be insured. Trailers are different. In most states, trailers only need to be insured if the value is above what is covered in your regular car insurance.
Check with your auto insurance to see what is covered, and weigh any coverage against the value of your camper. If it's a relatively cheap camper then you probably don't need to worry about additional insurance, but if it's more expensive then it's probably something you should consider.
Title and Registration
Registration is pretty cheap, but it's something I didn't even think about until after I drove home with my camper. In some states registration fees are free, but you still have to pay for a title and annual plate stickers.
In some states you also will be stuck with sales tax too, even if you buy the trailer from an individual instead of a dealer.
Cost to Tow
You generally lose about 7 miles per gallon in fuel efficiency when towing a camper (source

). For trucks with lower mpg already it can be less, but towing definitely affects your gas usage. If gas is $5 per gallon and you're driving a vehicle that normally gets 21mpg for 100 miles roundtrip, you'll end up paying $30-40 more just to tow the camper. That may be the cost of a cabin rental for a night instead.
Maintenance and Repairs
You also need to consider maintenance and repairs. Not having to deal with an engine is a big deal, especially in something that may sit for long periods of time. At the same time, sitting outside in the sun can cause a lot of damage over time as well.
Things also wear out and break inside too. Roughhousing kids can punch out screens or break shelves and drawers. It can be expensive to hire someone to troubleshoot a bad fridge or A/C unit too.
What I Miss About Tent Camping After Switching to a Camper
I've written previously about why tent camping is the best

, but also own a camper of my own. Switching over to a camper made sense for my family at this stage, but it hasn't in the past.
I miss the ease of just throwing stuff in the car and going. It feels like more of an expedition to hitch up the camper than it did to just throw everything in the trunk. It feels like a lot for just an overnighter.
We used to spend a lot more time outside before we had our camper. We'd pitch the tent, but then wouldn't go into the tent until it was pretty much bed time. You spend your time out sitting around the fire pit or watching a 2-year old eating dirt.
With a camper you do tend to spend a lot more time inside making and eating meals, playing games, or just lounging around. I definitely have to make more of a concerted effort to drive everyone outside to hangout.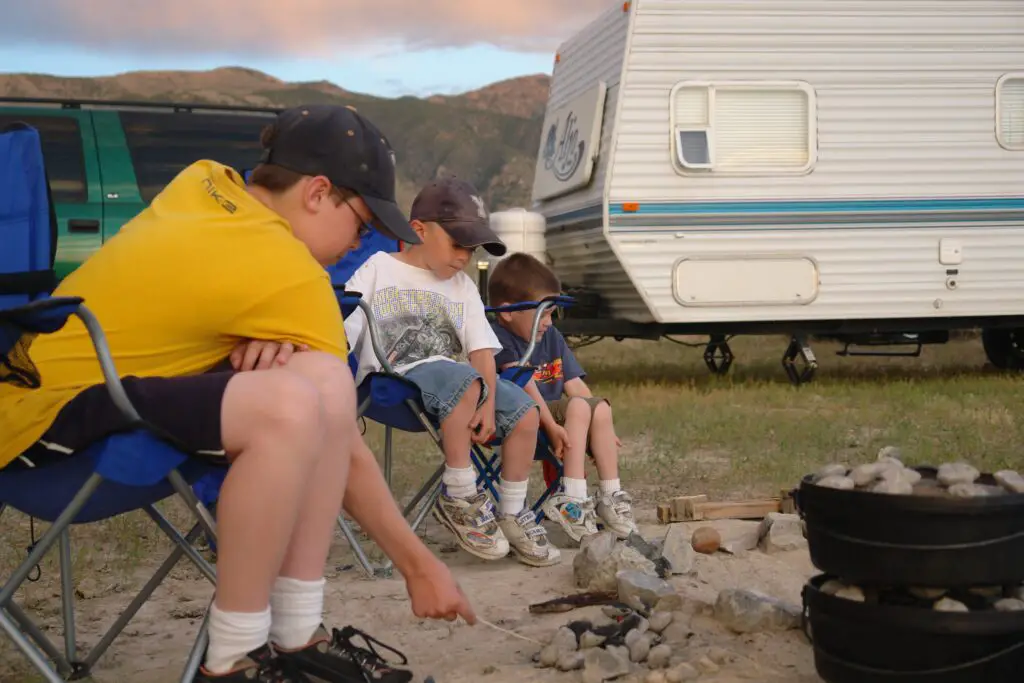 How to Make a Camper More Economical
The best way to save money on a camper trailer is to buy a used one. Just like with cars, campers lose about 20-30% of their resale value the minute you drive it off the lot. Even if you can buy one a few years old, you'll save a significant amount of money.
If you're really on a tight budget, consider buying a camper that's 20 years old or more. A fresh coat of paint inside and some TLC can really revitalize an old camper. The more moving parts a camper has, the more you'll have to repair or replace. With our tent trailer, there wasn't much to break. Making some simple repairs can make it possible to make money on your camper in the long run.
It also helps to try and time the market. Campers are always more expensive right at the end of spring or beginning of summer as people decide to get outside for the year. Inventory is also low because those who have campers want to save them for the season.
It's better to wait and buy at the end of the camping season when people are looking to offload them after a fun year. If you pick up a project in the fall, you can work on it through the winter and be ready for prime camping season in the spring.
Another fairly recent option for recuperating the cost of your camper is to rent it out on outdoorsy

. The nightly rate depends on a lot of factors including the age of the camper, the features, and how many other people are renting them out near you. It wouldn't make sense to buy a fleet of them to rent out, but it can make you feel good to know your camper isn't just sitting on the side of your house every weekend.
Related Questions
Is Buying an Airstream a Good Investment? Although a new trailer loses a significant amount of its value the first year, Airstream trailers do not depreciate much thereafter. The unique silhouette and durable construction have made Airstreams one of the most well-known and best brands for camping trailers.
Why You Should Never Buy a Camper? Most people just don't go camping enough to justify the cost of owning a camper, so it makes more sense financially to rent one once or twice a year instead. Campers depreciate in value over time and wear out when they're just sitting in the sun.
Are Campers a Waste of Money? A camper that is more than 10 years old has already lost most of the value it will lose, so if you can keep one up that is older, it can be a net neutral investment. Campers do depreciate a lot in value over the first few years, which makes them a bad investment financially unless you use them all the time.