Your footwear is one of the most important pieces of gear that you will need for canyoneering. Canyoneering shoes need to protect your feet from sharp rocks, desert thorns, and cold water. You need to have full control of your footwork, with strong traction, regardless of whether you are wet or dry.
These are the best canyoneering shoes for 2023, along with a review of each shoes and a rating of where they fall in each of our selection criteria.
| Image | Shoe | Decision | Durability | Traction | Drainage | Support | Price ($$$) |
| --- | --- | --- | --- | --- | --- | --- | --- |
| | La Sportiva TX Canyon | New Release in 2022. Seems more durable than Hydro Lace, and Higher Quality | ???????? | | | | $$$ |
| | Adidas Terrex Hydro Lace | Best overall canyoneering shoe in the US for wet canyons. | | | | | $$ |
| | Bestard Canyon Guide | Best overall canyoning shoe in Europe | | | | | $$$ |
| | La Sportiva Tx3 | Great approach shoe that also does well canyoneering | | | | | $$ |
| | Adidas Terrex AX2 | Good Approach Shoe | | | | | $ |
| | Adidas Terrex Voyager CC | Good for wet canyons, but not supportive | | | | | $ |
| | Adidas Terrex Scope GTX | Great hiking shoe, but holds water | | | | | $$$ |
| | Your Old Tennis Shoes | Okay for a one-time trip | | | | | |
Best Shoes for Canyoneering – 2022
There really aren't many perfect options for canyoneering shoes, since the market is so small. This last year had a brand new contender in the Sportiva TX Canyon that I think will really become popular in the US and throughout the world.
In the past, Five Ten made a shoe called the "Canyoneer" for about a decade, but it was scrapped in 2019 after some manufacturing issues. It didn't really do anything special either, so a lot of canyoneers didn't even use them.
Currently, the three best shoes designed for canyoning are the La Sportiva TX Canyon, the Bestard Canyon Guide, and the Adidas Terrex Hydro Lace. The meet all of our performance criteria and really set the standard for everyone else. These are specialized shoes, and command a high price.
Outside of these two shoes there are just a lot of shoes that unintentionally work well for canyoneering. The La Sportiva TX3 and other Terrex shoes are designed as approach shoes, sort of a hybrid between hiking boots, climbing shoes, and running shoes.
They're universal outdoors shoes, so you can use them for all of your favorite hobbies. If canyoneering is just an occasional pursuit for you, then get a good pair of approach shoes.
People will always end up wearing hiking sandals, hiking boots, and tennis shoes to go canyoneering. They're already in your closet, and you may not want to spend a lot of money on shoes that you'll only use once. Later on in the article I address how to pick a good shoe, if that's your choice.
Best True Canyoneering Boots
La Sportiva TX Canyon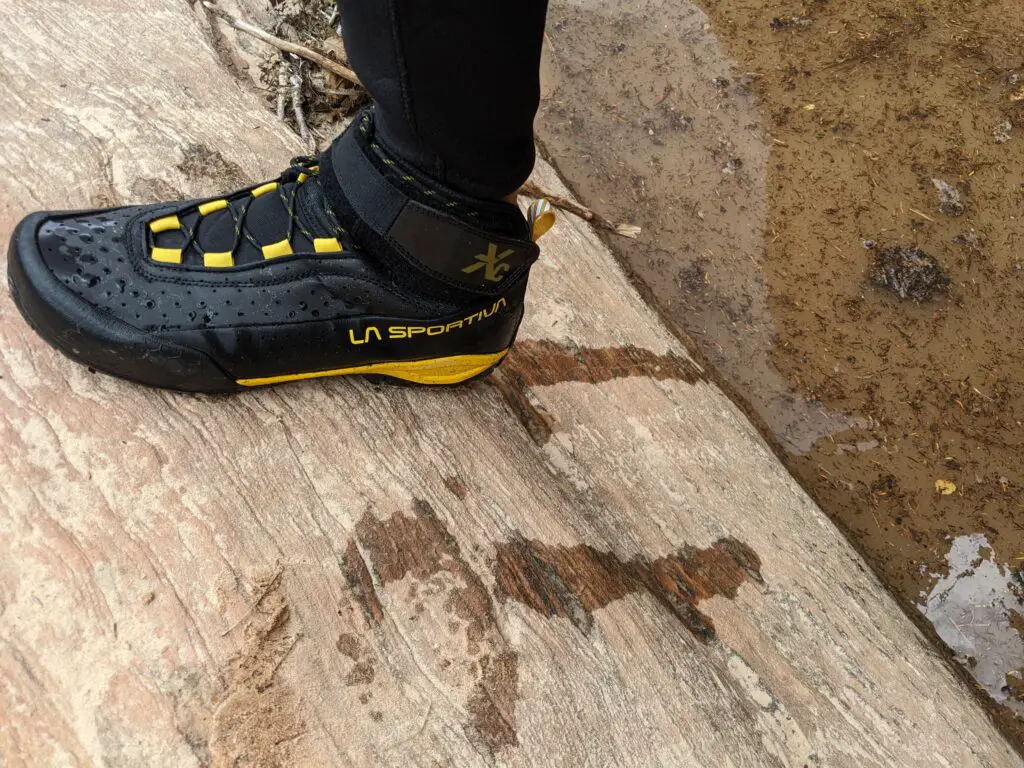 It was awesome to see a new canyoneering shoe enter the market this year from a giant like La Sportiva. It's nice to see some attention from a big designer on a niche adventure-sport like canyoneering. Sportiva announced the shoe in 2021 after working on the design with guides and enthusiasts.
Advantages
They are very similar to the Terrex Hydro Lace and the Bestard boots, with high ankle support. Unlike the others though, Sportiva borrowed a climbing trick and wrapped the sole up over the edges to eliminate the sole separation that plagues some of the other shoes.
The TX Canyons have the same drainage as the Bestard boots and a similar velcro closure as the Terrex Hydro Pros. The shoes lace closed, with a 3-piece velcro system around the top to protect the laces.
My biggest concern with the Sportiva shoes was that the rubber wouldn't be as good as the Stealth Rubber from Five Ten. I took them through a sandstone canyon in Zion and was really impressed to find that the Vibram rubber on these soles was just as good as Stealth Rubber. I comfortably stuck to everything- even when the shoes were wet.
The climbing toe works really well, and the heel is great too. I had no concerns wedging the toe or heel into cracks to help with downclimbing tricky areas.
Note that the shoes are designed to run 2 sizes (EU) large in order to accommodate neoprene socks inside. I normally wear an 11 (US) but ordered a 10.5 and they fit perfectly with neoprene socks.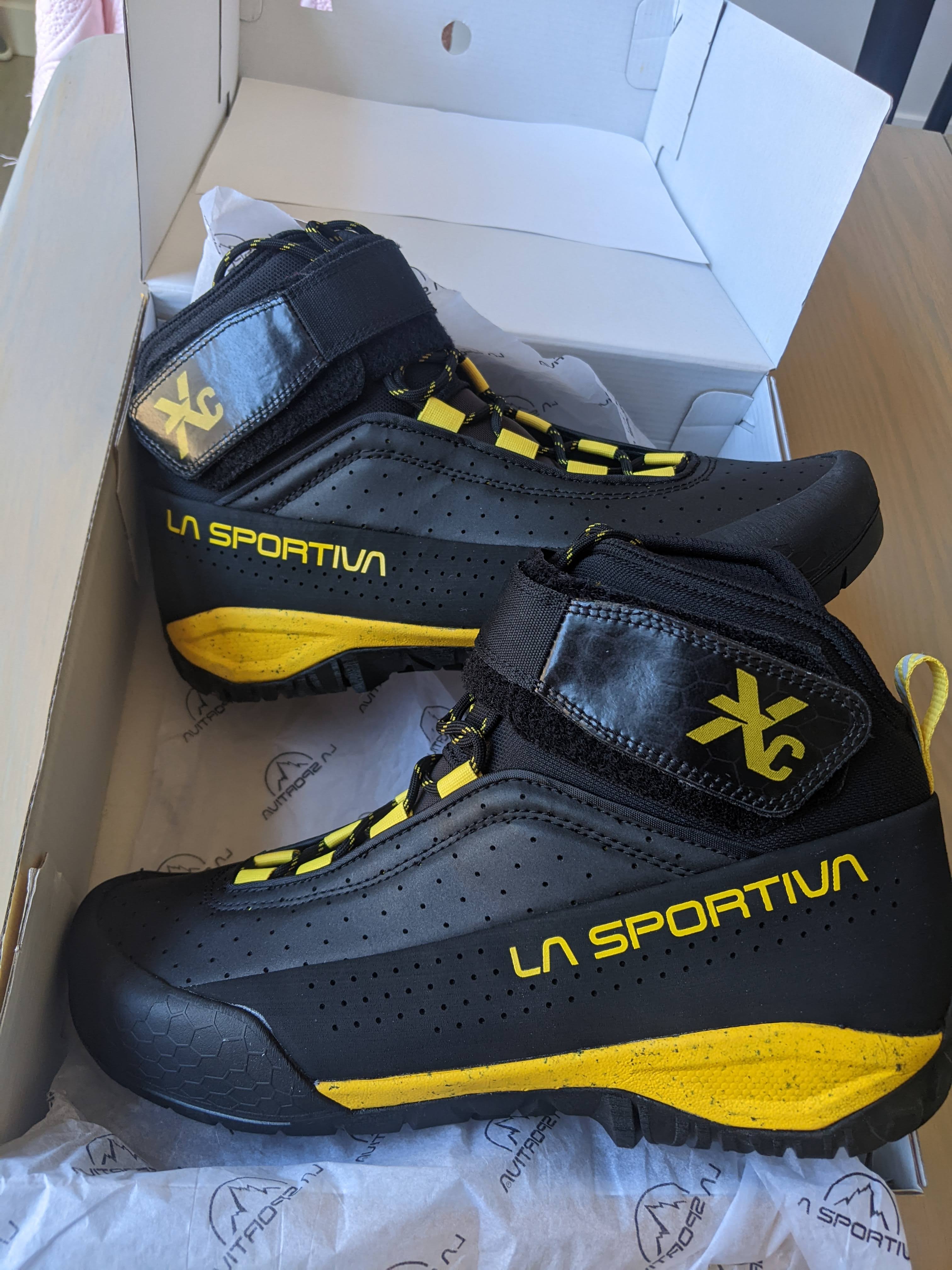 Disadvantages
The main disadvantage at this point, with a new shoe, is that they haven't been proved yet as far as durability goes. I've taken mine through one canyon at the time of writing and they look brand new. I've read reviews from other canyoneers and haven't heard any major durability concerns, but time will tell.
As with the other boots I reviewed, these are best when water is involved in a canyon. If it's dry and sandy, there's no reason to wear these ones since they'll just let sand in through the eyelets. For dry canyons, approach shoes for climbing are the best choice.
The other reason these may not take off in popularity is the price point. They aren't cheap! I think they'll really take off though, especially in places where Class C Canyoneering

is prevalent.
Adidas Terrex Hydro Lace

This is what guide companies rent out in places like Zion National Park's Subway. The sole uses Stealth Rubber for maximum traction, and the outer is durable and rugged. They definitely don't look like hiking shoes, with bright red or yellow coloring and the Adidas stripes on the side, but they're perfect for canyoneering.
Unfortunately, they're almost always out of stock online and in local outdoors stores.
Advantages
The Terrex Hydro Lace is built for wet conditions. The shoes don't get soggy, the soles stay grippy, and even the inside consists of a neoprene inner shoe that helps with both warmth and comfort.
These are more comfortable than the old Five Ten Canyoneers, and don't have the same bulk or quality concerns that plagued the Canyoneers. This shoe is the reason Adidas discontinued the Five Ten Canyoneers.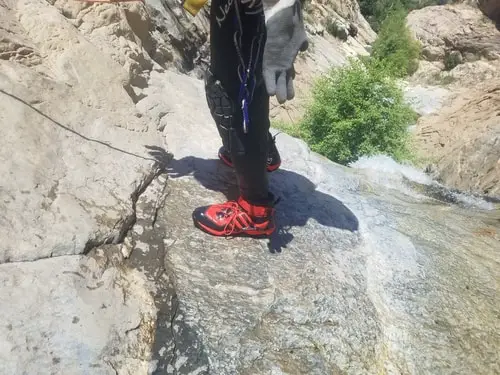 Disadvantages
The only downside to this shoe, in my opinion, is the price- usually around $140 USD. Outside of canyoneering and maybe kayaking applications, it just doesn't have a lot of use. They are also almost impossible to find online in the US. If you can find them they are excellent, but it's hard to find them.
When you spend this much on a shoe, you don't want to wear it out on regular hikes. If you are looking for a shoe for a specific canyoneering trip, or are looking to invest in a shoe that will get you through a lot of canyons, this is one that will do it.
Bestard Canyon Guide
The all around best canyoneering boot is probably the Bestard Canyon Guide, and for good reason. This is what canyon guides wear due to its durability, drainage, and traction. These shoes are hand made in Mallorca Spain, which ensures high quality (and high prices).
Advantages
The sole of the Bestard Canyon Guide is a special Idrogrip Vibram rubber made for these shoes. Initially they are pretty hard, but soften up quickly after they get worn in. Once they're worn in, they're as good as Stealth Rubber. They definitely target surface area over big lugs, so they're better on rocks than dirt or snow.
Somewhat unique to canyoneering shoes, the Bestard Canyon Guides have gaiters to keep sand and very small rocks out. They cinch up over your ankles so that only water can get through.
It's really annoying to have to take your shoes off after climbing up a sandy bank or wading through a pothole, and these gaiters solve the problem. They do go quite a ways up your leg though, which is something to get used to.
The drainage on these shoes is excellent. Each shoe has small drainage holes that let water out without letting sand or rocks in. This way you don't have to walk around with a boot full of water. Even though they look big and bulky, they're surprisingly lightweight.
The other great thing about the Bestard Canyon Guides is that they make a women's specific version that fits women's feet a little better. Most canyon shoes don't offer that option.
Disadavantages
Unfortunately, these are pretty hard to come by in the US. A few canyon shops may carry them in limited quantities, but you pretty much have to order them from Europe to get a good pair at a decent price. These are the most expensive on the list, coming in at around $180 USD. If you're ever in Mallorca, pick up a pair in size 11 for me okay?
Other Bestard Shoes
Bestard makes a couple of other canyoning-specific shoes as well, including the Wildwater Pro and the Aqua Pro. The main difference between the 3 options is the height.
The Canyon Guide is like a combat boot, the Wildwater Pro a mid cut boot, and the Aqua Pro a low cut shoe. The Wildwater Pro is new in 2019, so we have yet to get a consensus on durability in comparison to the other shoes; but it looks promising.
Approach Shoes as Canyoneering Shoes
The three shoes mentioned above are unparalleled in class C and class B canyons when water is abundant or anticipated. When you're expecting a bone-dry class A canyon though, they're really overkill. The drainage capability that was the best feature of the boot suddenly becomes a liability as the drainage ports allow sand into the shoe instead.
The best option for dry canyons is an approach shoe- a shoe specially designed for difficult rock climbing approaches. They're durable and sturdy, and provide excellent grip on rock.
La Sportiva TX3

La Sportiva has become synonymous with rock climbing and mountaineering. They make high-quality gear built for performance in tough conditions. It's no wonder that some of their shoes work well for canyoneering. I assume the popularity of this shoe among canyoneers was a driving factor behind the development of the TX Canyons.
Advantages
While not specifically designed for canyoning, the La Sportiva TX3 has a pretty good reputation among canyoneers. The Vibram sole is grippy, even when wet. It does have slightly larger lugs, which is an advantage in dirt, mud, and snow.
The toe box and rand are perfect for climbing techniques like edging and wedging into cracks. They go all the way around the shoe, protecting your whole foot. The uppers are synthetic instead of leather (like on the TX4's), which is an advantage when they get wet.
Disadvantages
The shoes have a synthetic mesh upper, which is both good and bad. They let sand in, but also let water out. They're not high tops, so there's no ankle support. This Vibram recipe is good, but not as good as Stealth.
The thick rand around the whole foot means that these don't breathe very well. These are low-cut shoes, and have been known to be somewhat narrow.
The La Sportiva TX3's come in at around $130 USD. It's not a bad price for a shoe that you can use as both approach shoes and canyoneering shoes. Side note- the guy I know who does the most canyons (more than 50 per year) wears these shoes and loves them. They're always available online, and in many local gear shops.
Other Adidas Terrex Shoes
Adidas Terrex Voyager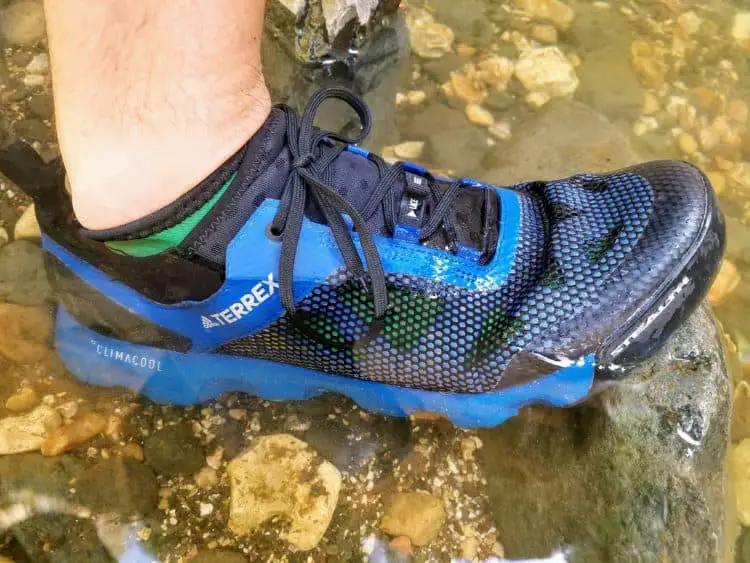 The voyagers are perfect for Class C canyons running wild with lots of flow. They're not as durable as true canyoneering shoes, but are extremely lightweight and excellent in the water. With durable mesh sides all over, water passes in and out with ease. The soles are made of Stealth rubber, so you can pretty much walk up walls.
I bought a pair of these specifically for Class C Canyons in Arizona, and I've loved them so far. They don't provide the support or protection of the Terrex Hydro Lace or Bestard shoes, but they work well as an inexpensive shoe for the sport. They run a little bit big, so I recommend buying your regular shoe size and wearing neoprene socks.
Adidas Terrex AX2

The AX2's are classic hiking shoes. Some of them have Stealth soles, and some have continental or traxion soles. These are a step above tennis shoes, and even do better than many hiking shoes. The AX2's are low top shoes, so don't get them if you have a history of bad ankles.
I've got the AX2's cousin, the Terrex Solo

. They work really well and do everything I need them to do (for dry canyons).
Adidas Terrex Scope GTX

If you're looking for shoes that excel at durability, go with the Terrex Scope GTX's. These shoes look awesome. They aren't designed for canyoneering, but have gained a small following in the community. These are high tops, and provide excellent ankle support.
Advantages
They're extremely durable, with stealth rubber soles and excellent support. These boots are very comfortable, and will last a long time. They're best for hiking in wet areas like the Pacific Northwest of the United States.
Disadvantages
The main thing between me and these shoes is the price tag. They can go for as high as $225 USD at times. They're waterproof- which is a cool feature for hiking boots, but not great for canyoneering shoes. There's nothing like slogging around in boots full of water all day.
Other Shoes that can Work for Canyoneering
Hiking Boots
If you've already got a good pair of hiking boots, you can probably go ahead and take them canyoneering. I wouldn't recommend leather boots because they don't maintain their shape very well when wet.
There are lots of good options though, from Salomon to Merrell. Look for a pair of boots that meet the criteria we used to rate these canyoneering shoes- durability, traction, drainage, and support.
If you choose to wear a pair of hiking boots you already own, be aware that they can easily get completely trashed after a single canyon. Wading through pools and mud and grinding across sharp rocks can completely ruin them.
If possible, test out the traction before committing to a canyon by getting them wet. Some types of rubber harden up when they're cold and wet, which means you'll feel like you're wearing ice skates.
In general, you want shoes with more surface area on the sole instead of a lot of big lugs or spikes. Surface area translates to better traction on slickrock than spikes do.
Look for boots with Vibram soles. Each type of Vibram sole is slightly different, but if a shoe uses Vibram or Stealth it shows that traction matters to the manufacturer. Just because a shoe isn't on this list doesn't mean they could be good. I had a pair of Nike hiking boots for several years that performed very well when wet.
Hiking Sandals
I used a pair of Teva hiking sandals for a few years specifically in wet canyons. They didn't have amazing traction, but they met my other criteria. These aren't great for hiking, especially in sand; but they do a great job going in and out of water. I eventually replaced them with the Adidas Terrex Voyager shoes, which are definitely a step up in terms of traction.
If you decide to use hiking sandals for something like The Subway or The Narrows, or another Class C canyon, make sure to pick a pair that completely encompass your toes. You'll likely be wading through streams and pools with hidden submerged rocks and sticks that can really hurt your feet if you aren't careful. I'm talking to you, Chaconians!
Tennis Shoes
A lot of novices end up wearing tennis shoes. They're certainly not the shoe of choice, but they can get the job done. At least one person is wearing tennis shoes on the majority of the trips I go on. If you're wearing tennis shoes, you need to be extremely careful around any potential fall.
This person usually has a hard time scrambling around and down climbing, since the traction is usually very poor. Additionally, the footbed of a pair of running shoes is designed to be very flexible- not to stay rigid like a pair of climbing shoes. Keep in mind that your tennis shoes will just about disintegrate after an especially tough canyon, and will never be the same color again.
The Rating Criteria
Durability-
Canyoning shoes take a serious beating. Not only do they have to be able to handle the abuse of the canyon, but also the strenuous approach and exit. The exact challenges you face will depend on the climate and environment you're exploring.
For many canyons in Southern Utah and Arizona, this means trudging through miles of sand while carefully navigating around every kind of thorny plant the desert could think of. In wetter environments, the challenges become muddy approaches where the undergrowth hides trip hazards and plants like poison ivy.
Regardless of the approach, the canyon itself can thrash regular shoes in a single day. Between stemming, rappelling, and down climbing, your shoes experience a lot more horizontal forces than they were designed for. Remember when Zion Williamson blew out of his Nike shoe

during an NCAA basketball game?
Besides the irregular forces at work, canyoneering shoes also need to withstand abrasive rock and whatever sludge lies in the bottom of the slots. Tennis shoes made of cheap material that are designed for breathe-ability instead of durability aren't a good choice.
Look for shoes made of durable material with reinforced seams and rubber caps over the toe box. They'll last a lot longer and will protect your feet underneath. Approach shoes and hiking boots are designed with a strong focus on durability.
The heat and cold that these shoes experience can also lead to the sole separating from the rest of the shoe. It can be fixed with shoe glue, but is annoying and can cause problems if it happens mid-canyon (I had to hike out barefoot one time when my sole came off).
Utah's sandstone also can shred shoelaces and ruin velcro. If you're concerned about it, bring an extra shoelace.
Traction-
There are two schools of thought when it comes to traction. The first is exemplified by basketball shoes. They maximize the surface area of the rubber on the bottom of the shoes so that the most rubber possible is gripping the court.
The other style of traction is the big rubber lugs that you see on hiking boots. They are designed for softer surfaces like dirt, mud, sand, and snow since they get traction by digging into the surface.
The best choice depends on the canyon, but you usually want to maximize surface area. Since water runs right through the middle of the canyon, the rocks can become very smooth.
The big lugs on hiking boots help a lot with some canyons, but they don't execute as well when there is a lot of rock involved. For that, you need Stealth Rubber.
Stealth rubber is arguably the best surface area traction (I dare you to argue it with me!). If a lizard and a mountain goat had a baby, this is what the bottom of their feet would consist of.
Rumor has it that Adidas acquired Five Ten several years ago in order to acquire Stealth Rubber. This is the same rubber that's used in Five Ten's climbing shoe line. It stays grippy even when wet.
Stealth rubber is followed up by Vibram, which is on a lot of different shoes including the La Sportiva Tx3's mentioned above. It's still an excellent choice, but not quite as good as Stealth.
Different shoes have different recipes for rubber. Softer rubber doesn't last as long, but usually has better traction. Harder rubber lasts a lot better, but it is usually horrible when cold or wet- conditions inherent to canyoneering.
Test out the rubber on your shoes before taking them through a canyon. It can be very dangerous to skirt the edge of cliffs and stem over long drops when your shoes function like ice skates!
Drainage-
Unless you're doing a Class A dry canyon when it's actually dry, you have to plan for water. Not only is it uncomfortable to scramble around with water-filled boots, but it makes your feet a lot heavier. This can be dangerous when trying to pull yourself up out of a keeper pothole

.
Drainage is especially important for class C canyons with flowing water. If there's one single pothole or swimmer it's not too inconvenient to take your shoes off afterwards and dump them, but when your constantly in and out of the water you really need good drainage.
Most shoes that drain are designed for either kayaking or hiking in rivers. Some have holes all around them and are designed to let water, sand, and little rocks flow through freely. Special canyoneering shoes usually have little gromets or mesh sections that are designed to only let water through.
For most canyoneering applications, waterproof shoes aren't ideal. Waterproofing, even with built-in gaiters, isn't perfect and it normally just does a good job trapping water inside. It usually just means your shoes are heavier, bulkier, and hotter.
Support-
Canyoneering shoes offer varying levels of support. The best shoes like the Bestards and the Terrex Hydro Lace provide sturdy ankle support. Canyoneering means a lot of boulder hopping down rivers where you can't always see what your stepping on.
If you have bad ankles, this can be very uncomfortable and even dangerous. If you have a history of rolled ankles, be sure to get high-top shoes with ankle support.
Good canyoneering shoes and good approach shoes have a firm footbed. This means they don't arch as much as running shoes, but they work better when you need delicate footwork for climbing up or down. Any good approach shoe is designed so that you can easily support all of your weight on just the toe or sides of the shoes.
Aside from ankle support you also need to evaluate your specific needs for insoles and arch support. Most of the canyoneering shoes we recommend provide adequate support, but if you have problems with the support in regular shoes you should consider swapping out the insoles. The Bestard Wildwater Pro is designed so you can remove the insole to fit thick neoprene socks for added warmth.
Other Tips for Canyoneering Shoes
Socks
Canyoneering shoes aren't as comfortable and form-fitting as good running shoes, so you really do need some good socks. Fortunately for outdoorsmen, socks have really improved over the past decade. Pick out a pair of Merino Wool socks. They help keep your feet warm or cool, they don't hold water like cotton, and they're usually padded in all the right places.
If you plan on doing class B or class C wet canyons, you need to consider neoprene socks. I even use them for canyons when I don't wear a wetsuit, because they're comfortable and do a great job keeping your feet warm.
They make neoprene socks as thick as you could want them for warmth in really cold places, but I usually find that 3mm is sufficient for canyoneering. It's better than letting your toes go numb!
Personal Fit
Canyoneering shoes need to fit really well. I had a pair in the past that was a full size too big. They had excellent traction and drainage, but they were so roomy that I slid around inside the shoe when I tried to make precise steps. Because they were so large it really impacted my ability to use rock climbing techniques like edging.
You really want your shoes to fit as tight as possible without being uncomfortable. Rock climbing shoes are designed to smash your whole foot into a small space so that you can easily put all of your weight onto a small ledge. The same benefit helps with canyoneering.
At the same time, you really don't want your shoes to be too tight. You will get blisters and will be really uncomfortable. Keep in mind that shoes usually become more loose when they're wet, and remember to account for the thickness of the socks you intend to wear.
Which Canyoneering Shoes are Right for You?
You need to consider how often you'll go canyoneering and decide if it's worth paying for the best two true canyoneering shoes. If not, pick up a good pair of approach shoes that will meet the criteria above and do the job. These shoes are worth the investment, meaning that you will get out of them exactly what you put into them.
These ratings were determined based on personal experience with some of the shoes, as well as gathering reviews and information from other canyoneers both online and in person.
If there are other canyoneering shoes that you use or have used in the past that we didn't include in this article, reach out and let me know. I'm always anxious to find the new perfect shoe for exploring canyons!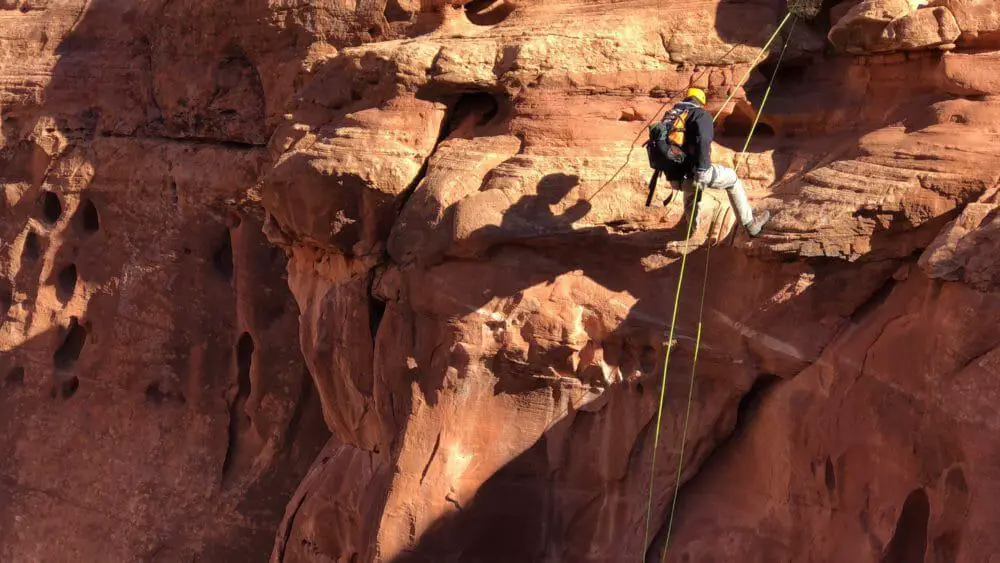 See Also:
What is the Best Backpack for Canyoneering?

16 Tips for Awesome Canyoneering

What is the Best Descender for Canyoneering?