There are lots of situations where it makes sense to sleep in your car. It could be a long road trip where you don't want to pay for a hotel or go through the hassle of check in and check out for a few hours' rest, or it could be some sort of music festival or even 'stealth camping' along a coastline. The last thing you want is a knock on the window at 2AM informing you that you need to leave the premises, so you need to know where such car camping is legal.
Car Camping, or sleeping in your car, is legal in many public areas including rest stops, park 'n' rides, and BLM lands. In some areas, like public parks, car camping is often legal during the day but not between 10PM and 6AM. Other legal places for car camping include many truck stops, Walmart parking lots, Casinos, or other stores open 24/7.
Simply put, car camping is legal- except where it's not. Pay attention for any signage indicating restrictions on overnight parking, and consider asking an employee or calling ahead if you plan to stay in a private parking lot. It's important to be able to stay completely contained if you're 'stealth camping,' which means planning ahead.
What You Need to Know About Car Camping
Before we get too far, it's important to dive into a few of the specific definitions around car camping including car camping, stealth camping, boondocking, and the incredibly attractive #vanlife camping.
Types of Car Camping
Car Camping Meaning
To the average person, car camping refers to sleeping in one's car either in a public area like a rest stop or parking lot, or in a campground or on public lands. Car camping can be either sleeping in seats that are reclined or in a makeshift bed in the back of a van. It is considered car camping whether it's done in a car, van, or truck.
To people who camp frequently, car camping can have a different meaning. Car camping can mean camping out of your car, meaning you are not backpacking, sleeping in a camper, or some other variation. For example, a car camping sleeping bag or sleeping pad is generally too heavy or bulky to strap to a backpack.
For more information on camping out of a car versus backpacking, read my article, Camping vs. Backpacking: What's the Difference?
This article will focus on the former definition, as camping out of a car is legal anywhere camping is legal, while 'car camping' in a car is only legal in certain areas.
Stealth Camping Meaning
Stealth Camping is a type of Car Camping where the intent is not to let others know that you're sleeping in your car. With stealth camping you usually block out windows and are completely self-contained. This means no pulling out a stove and camp chairs in the evening or rigging a hammock to a nearby tree.
This type of stealth camping is usually done in order to avoid being a target of a break in, but also can be done in areas where car camping isn't, strictly speaking, legal. It is often a tactic that #vanlifers use in certain areas along their travels when public areas aren't as plentiful
Boondocking Meaning
Boondocking is essentially just free camping. For most people this means camping on Forest Service land or on BLM land where there are no amenities and a 14-day limit. These are some of the best places to car camp because you aren't restricted to the confines of your car and can stretch out a little bit to cook or build a campfire or whatever.
Vanlife Camping
The concept of "Vanlife" has exploded in popularity during the 2010's, and continues into the 2020's. This usually involves people living in their vehicles, often large full-size vans like Ford Econolines or Mercedes Sprinters. They're much more compact and maneuverable than an RV or truck and camper, being able to conveniently park in a single parking space and stealth camp when necessary.
Not everyone elects for the big Sprinter vans though, it's not uncommon to see people living out of a truck with a rooftop tent or a minivan or SUV with a bed in the back. Instagram has made the #Vanlife seem glamorous, and lots of people are following along and building out their own vans.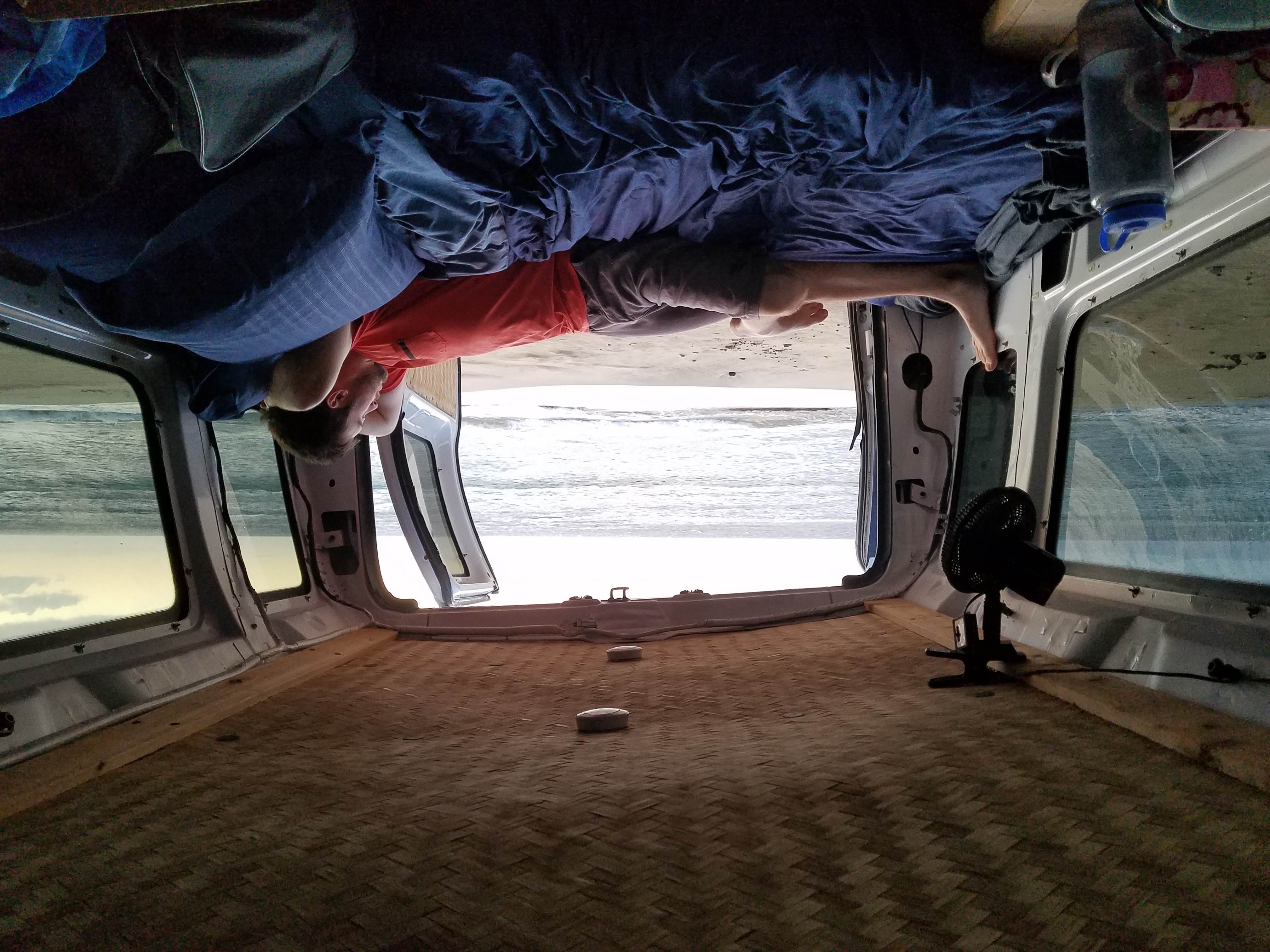 If you're considering car camping, you should read my guide to the best foam mattresses for car camping

.
How to Find Legal Car Camping
The best legal place to go car camping is on public lands like Bureau of Land Management (BLM) lands and National Forest lands. Except where indicated otherwise, these lands have a 14-day stay limit and allow users to build campfires and stretch out.
There is no federal law against sleeping in cars; however, there are sometimes regional or statewide restrictions, and even more frequently there are municipal-wide restrictions on staying in rest stops or in public areas overnight. These laws are referred to as vagrancy laws, and are designed to keep homeless people from setting up in a community.
There are many different resources for identifying legal car camping, and these are some of the best:
FreeRoam (app)
Campendium (app)
FreeCampsites.net
The Dyrt (app)
iOverlander (app)
I often use a few of them for each trip because they all rely on user-submitted campsites and don't all have the same lists. One of my favorite features on the FreeRoam app is the ability to view different map layers including BLM land and Forest Service Land.
Rest Stops along the freeway can make great places to spend a night. They're 24 hours, and are specifically intended to allow people a place to take a break from driving and rest up. Not all of them allow spending the night however, so pay attention to any signage indicating a restriction on the amount of time you can stop. The reason for this is to keep them from turning into campgrounds or homeless encampments.
Truck Stops like, Flying J, can also be good places to stop for a night en route to something else. The best part about a truck stop is they're set up for truckers to spend a night and offer showers and travel accessories. Casinos can also be a decent spot to stay a night or two as they often have areas designated for RV's.
Walmart Parking Lots are also a really common stopover for urban campers and road-trippers. The lots are huge so it isn't difficult to find a somewhat quiet spot in a corner where no one will bug you. You probably don't want to get out camp chairs and a grill, but no one will bother you if you're not in the way. It doesn't hurt to check with the specific store first though, as some popular locations like California or Florida may not allow camping.
Other 24hr Stores and Restaurants can work as well, but they're more on a one-off basis. Call ahead or run inside and ask nicely if they mind if you park in a far corner of their lot overnight. As long as you're self contained and don't advertise that you're sleeping in your car, it shouldn't be an issue. Cabela's and Sportsman's Warehouse are generally good options, but give them a call to check for sure.
City Streets should only really be used if you're in front of the home of someone you know. You could potentially stay a night in front of an empty lot, but concerned neighbors may call the police if it's clear that you're spending the night. No one wants a strange van parked on their street for a day! A police officer would generally just tell you to move along though, rather than getting you in trouble.
City Parks can make a good place to catch a few hours of sleep, but almost all of them have a curfew of 10PM or midnight. It can be a good option to sleep for a few hours in the morning or evening, but you shouldn't spend the night at a city park.
Random Pullouts along the highway can also work, but run the same risks of a concerned citizen calling the police as city streets do. There's also a slightly higher risk of someone messing with you since it's often a quiet, remote area. Make sure you can take care of yourself if you stop in places like this, and get far enough off the road that you're in no danger of being hit by drowsy drivers.
I often see people posting on social media in different climbing, biking, etc. communities asking if someone has a spot of driveway they could park in for a weekend while they explore the area. Results are mixed (I'm not one who likes the idea of a stranger staying at my house), but it's an option nonetheless.
Is Car Camping Legal in Utah?
Utah is one of the best states for car camping because there are no state-wide laws against sleeping in a vehicle (unless intoxicated). Public lands are plenteous, with many options just outside of popular areas like Zion National Park or Salt Lake City. Rest areas are open for sleeping, even overnight.
Is Car Camping Legal in California?
Rest stops are limited to 8-hour stays, but only during daylight hours. You cannot sleep in your car overnight at rest stops, but there are overnight parking lots and overnight parking is often allowed on city streets if you're self-contained and stealthy.
Is Car Camping Legal in Colorado?
Colorado doesn't allow sleeping in cars at rest stops, but they do have a lot of overnight parking lots in big cities. There are still lots of public lands in Colorado that make for good camping, and smaller cities are often softer on car campers than bigger cities like Denver.
Is Car Camping Legal in Oregon?
Rest stops are the best place to car camp when public lands are unavailable, as Oregon's only restriction is a 12-hr time limit. There are lots of public lands as well. Oregon is pretty soft on car campers.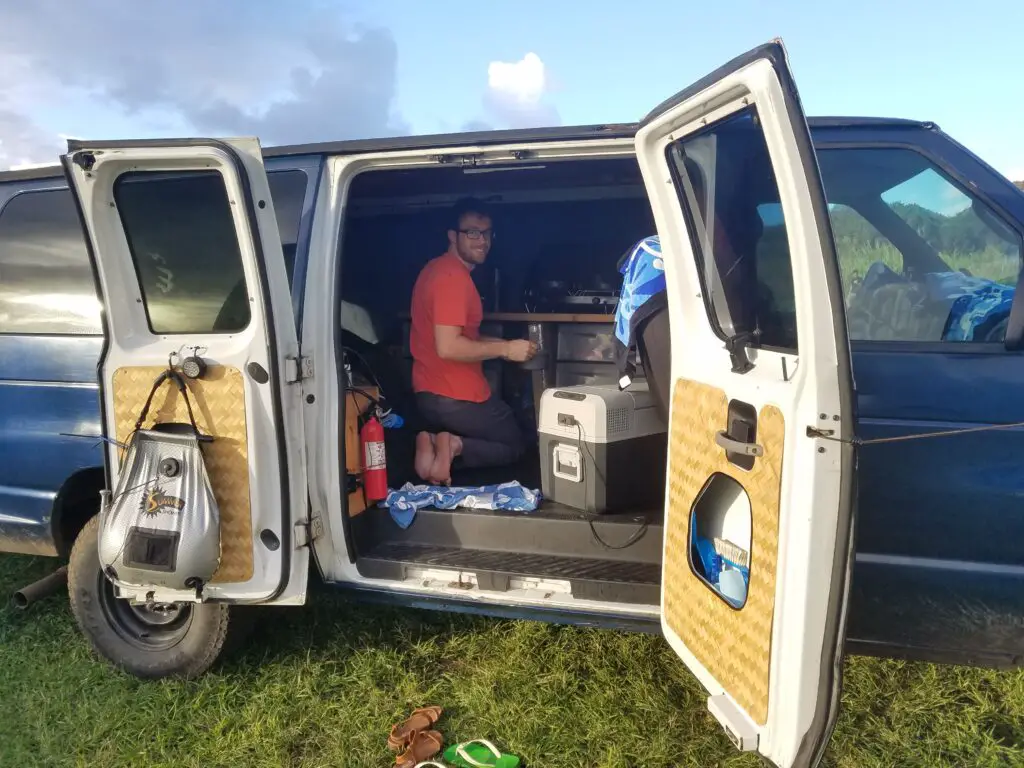 Tips for First-Time Car Campers
#1 and #2
Going to the bathroom at night is one of the biggest inconveniences of car camping when you're not in the wilderness. Obviously truck stops and restaurants have public restrooms available, but if you're in more of a stealthy area you might not have that convenience.
If you've got to take care of business inside your vehicle, you'll need a bottle (clearly labeled!) and a funnel for #1. For #2 you need some sort of bucket & seat combination with a wag bag inside of it. You can also buy a compact toilet designed for campers, but those are more expensive for a first-timer.
Practice ahead of time so that you don't make a mess inside your vehicle and follow the directions on the wag bag. The most popular ones are probably the RESTOP 2 bags (view on Amazon

).
Meals
If you're just spending a weekend or a short trip camping in your car it probably isn't worth it to try and build a kitchen or anything like that. Eat out or use a small backpacking or camping stove to boil water for freeze dried meals.
The main thing to realize is that you don't want a particularly pungent-smelling meal stinking up your bedroom, especially if it gets burned. Additionally, you don't want to attract small critters into your car. In campgrounds and on public lands you can just cook outside your vehicle, but it is more complicated when you're supposed to be stealth camping.
Situational Awareness
The solidarity most car campers are seeking comes hand in hand with an added measure of danger. Sleeping in your vehicle you're generally safe from animals (watch out for mice and squirrels though), but human beings are another story.
The most important thing you can learn and practice in order to stay safe is often referred to as situational awareness. You don't need to be paranoid, but you should maintain a healthy level of caution around strangers.
If it's obvious to everyone that you're sleeping in your car, it's obvious that all of your valuables will be left in there unguarded when you're away. Situational awareness dictates that you park in well-lit public areas and pay attention to who is watching when you enter and exit the vehicle. Black out your windows so passers-by can't see inside.
Venting
Concerns of Carbon Monoxide poisoning are somewhat antiquated with modern vehicles as long as they're parked in an open area. Regardless, you still need to crack a couple of windows in order to allow airflow and any noxious fumes to escape. This also helps the windows not to fog up, which can be a dead giveaway that someone is sleeping in the car.
This is especially important if you intend to cook with a propane or butane stove in your vehicle or use a Mr. Heater Buddy heater rather than your car's heater. A battery-powered CO detector may be a good investment if you plan to burn any kind of fuel inside the vehicle.
Showers
Truck stops are really the best bet for car campers, since they're easily accessible and are relatively cheap. Campgrounds may also have showers, but a night in a campground just for a shower can be expensive. Solar showers can also be a great option if you're on public lands or at the beach or somewhere you can shower next to your vehicle.
Alcohol
If you do choose to sleep in your car, you need to be aware of the laws in specific states around drunk driving. Several even have restrictions on sleeping in a car while intoxicated, even if you have no intention of driving (intoxicated people sometimes do things they don't intend to do…). Unless your car is registered as an RV, keep alcohol separate from it.
Is Car Camping Real Camping?
Most people would consider car camping as real camping as long as it's done in a campground or camping-style on public or private lands. Sleeping in a vehicle at a rest stop or on a road isn't 'real' camping.
There's a fine line between camping and vagrancy or homelessness, and 'car camping' covers both sides in my book. Make sure to follow applicable laws and regulations in whatever state or municipality you're staying in, and be prepared for whatever car camping situation you may find yourself in.
Related Questions
Can I Camp Out of My Car? Camping out of a car is allowed in most areas where camping is allowed, as long as the site isn't labeled as a 'walk-in site.' Special care needs to be taken if camping in a car in public areas so as to not draw attention to yourself, and you need to watch for signage indicating overnight parking is allowed.
Why is it Forbidden to Sleep in Your Car? Vagrancy laws, both at the state level and at the local level may forbid sleeping in your car in public areas like city parks or on city streets. This is because citizens don't want random strangers living in their cars at the local park or on the street in front of the school. Many 24/7 parking lots or rest stops allow sleeping in a car, as do many public lands.