Maybe you're planning an epic road trip to hit all 63 National Parks in the US, or maybe there's just one that you've got your sights set on. If you don't live close however, you will probably be looking to spend a night and may get sticker shock when you look at hotels or rentals nearby. Is car camping allowed in National Parks?
Car camping is allowed in all National Parks within designated campgrounds for a fee. Depending on the specific park, backcountry camping may be allowed in other areas with an additional permit. Campers cannot just sleep in their cars along the side of the road or in a parking lot within a National Park. Any parked car overnight needs to have a permit identifying the activity the owner is engaged in, like canyoneering, rock climbing, or backpacking.
Permits, permits, permits. There are obvious benefits to having lands designated as National Parks as far as crowd control and stewardship of natural resources, but the NP designation also includes a whole litany of governmental bureaucracy. To avoid a ticket or fine, you need to know some more information about car camping in parks.
Car Camping in National Parks
With just an $80 Inter-agency Annual pass you get access to every National Park

in the US, as well as National Monuments, National Monuments, and many other points of interest. The value of that annual pass is incredible, but it's not an unlimited pass for activities within those parks.
Campgrounds within National Parks
Camping is allowed at every single National Park, except for the National Park of American Samoa. A handful of National Parks only allow backcountry camping however, which generally means backpacking. These locations that do not permit car camping include:
Carlsbad Caverns
Saguaro
Cuyahoga Valley
Petrified Forest
The National Park Service website

includes more than 130 campground options to choose from around the country. They vary in just about every way, from elevation, to climate, to amenities, and to popularity.
The most popular campgrounds in terms of visitors per year are The Grand Canyon, Yosemite, Zion, and Rocky Mountain National Parks. The rest see a significantly fewer number of campers, though these first four also include lots of campground spots.
Dispersed camping is not allowed within National Parks, but is available in National Forest and BLM lands. Parks that offer backcountry camping outside of official campgrounds require campers to obtain a permit and backpack their gear in.
Camping Fees within National Parks
The average fee to camp in a National Park is about $20 per night for a tent site, but rates for RV sites with hookups can get up to $50 per night in some places. Additionally, group campgrounds are more expensive ranging between $75 and $100 per night. In less popular National Parks, or those less popular with campers, campgrounds with minimal amenities may be free.
If National Parks were run like a business, it would definitely cost more than $80 for an annual pass that lets you into all of them. In the same way, camping is more limited by availability than by the cost. If you want to camp in many National Parks, you have to book your vacation out well ahead of time or go during the off season.
You can often save money by boondocking on National Forest Land or Bureau of Land Management (BLM) land near a National Park. Watch for signs limiting camping to a certain number of days or certain campsites. If you're not sure where camping is allowed, read my article Is Car Camping Legal?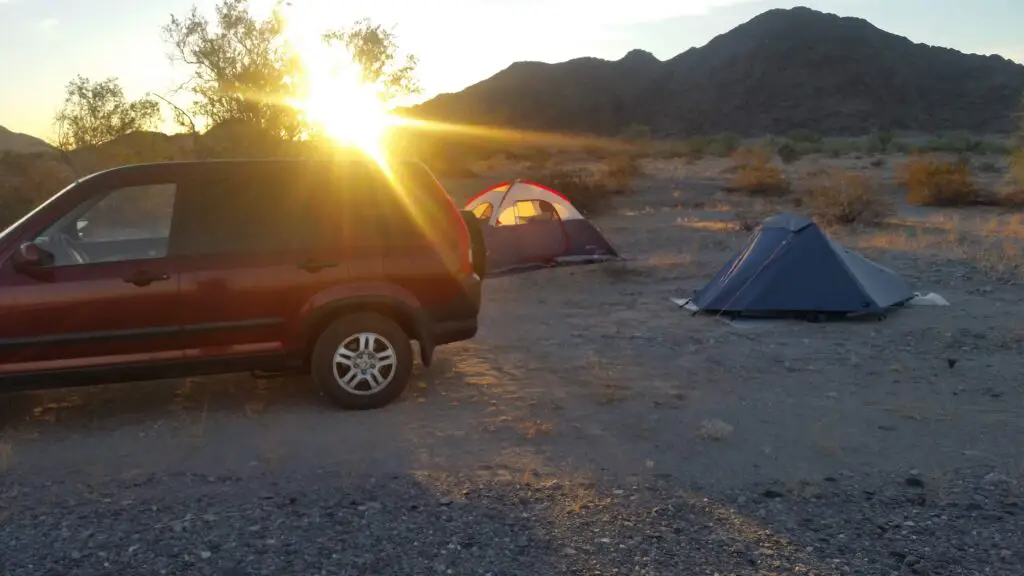 Boondocking vs. Campground
The cheapest way to camp on a National Park trip is to try boondocking. Many National Forest and BLM lands are wide open for public camping for up to 14 days at no cost. This is much more common in states with greater availability of public lands like Utah or Arizona, but there are often public lands near National Parks where you can camp.
When boondocking, aka 'roughing it,' wild camping, or dispersed camping, there usually aren't bathrooms or running water or anything. You can't reserve a site ahead of time either. You simply show up, drive down dirt forest roads until you find an open spot, and pitch camp.
Some areas get really busy during summer weekends, but others absolutely never fill up. For example, one time we drove the 2 hours from Phoenix up to some National Forest land outside of Prescott, Arizona. We drove down little dirt roads for an hour trying to find an open site, but all of them were taken. We drove another hour north to a more remote area and easily found a spot.
Some boondocking areas are numbered and camping is limited to developed sites, but in many others it's a free-for-all where you can set up wherever you want. Regardless, you should still avoid trampling vegetation and building campfire rings where none already exist.
Car Camping vs. Sleeping in a Car
To non-campers, the term 'car camping' means sleeping in your car and can refer to the pseudo-glamour of the #vanlife or just sleeping in the back seat. It can be done in cities as 'stealth camping' or in more wild areas. Either way, you should make sure to get a good foam mattress

.
To campers though, car camping just refers to camping out of a car rather than backpacking

, bikepacking, or something similar. It means you can pack more than what you can carry and is somewhat more luxurious than other types of camping.
Whichever type of car camping you're looking to do though, you can only do it in campgrounds inside of national parks. Backcountry camping cannot be done in a car, or out of a car.
For a better explanation of the pros and cons of the two types of car camping, read my article Is it Better to Sleep in Your Car or in a Tent?
Car Camping at Specific National Parks
The following is a partial list of National Parks that offer car camping in designated campgrounds for a fee:
Glacier National Park (13 campgrounds)
Olympic National Park (12 campgrounds)
Mount Rainier National Park (3 campgrounds)
North Cascades National Park (7 campgrounds)
Yellowstone National Park (12 campgrounds)
Grand Teton National Park (8 campgrounds)
Crater Lake National Park (2 campgrounds)
Redwood National Park (4 campgrounds)
Lassen Volcanic National Park (6 campgrounds)
Yosemite National Park (10 campgrounds)
Pinnacles National Park (1 campground)
Death Valley National Park (7 campgrounds)
Joshua Tree National Park (9 campgrounds)
Grand Canyon National Park (6 campgrounds)
Zion National Park (3 campgrounds)
Bryce Canyon National Park (2 campgrounds)
Capitol Reef National Park (3 campgrounds)
Canyonlands National Park (2 campgrounds)
Arches National Park (1 campground)
These campgrounds are a mix of reserveable and non-reserveable sites that are open during different seasons of the year or year-round. Some are closed during the winter, and some switch from reserveable to first-come first-served in the winter or summer.
Many of these National Parks include backcountry options as well that don't work for car camping. Make sure to check the specific park before planning your visit.
Camping in National Parks versus Private Campgrounds
Just because a National Park's campgrounds are full doesn't mean you're out of luck. Most National Parks are surrounded by similar terrain that is privately owned. Scattered among the private cabins are often campgrounds open to the public for a fee.
Campgrounds certainly vary in amenities, availability, and cost, but generally you can find a car camping site for around $20 per night. They're usually less popular than the campgrounds that are physically located inside the parks, and sometimes include fun activities like swimming pools or climbing walls that aren't available in National Parks.
Related Questions:
Can You Camp in National Parks for Free? Camping in National Parks can cost between $20 and $50 per night, though there are a few free ones including Petrified Forest and Haleakala, among others. Camping is limited to specific campgrounds or backcountry areas.
Why Can't You Sleep in Your Car in National Parks? You can sleep in your car in National Parks, but only inside a designated campground. Camping is only allowed in designated areas, where most require a nightly fee.
Can You Sleep in Your Van at National Parks? You can only sleep in your van at National parks at designated campsites. You cannot sleep in your van at pulloffs or trailheads without getting a ticket. Inside campgrounds you can sleep in your van.
What is the Longest You Can Camp in a National Park? Most National Parks have a stay limit of 14 or 30 days, depending on the season. Campers are limited to 14 days during the peak season, and 30 days during the off-season. Each park may have slightly different regulations.