If you search for "Canyoneering Shoes" on Amazon, only one pair of shoes appears (and it's out of stock!). Search for them online, and one of the first options is a pair of climbing shoes (could there be anything worse?). Apparently there's room in the market for new contenders! With that being said, there are several very good options out there.
Regular hiking boots generally don't work, because they are not designed to go through water and the big lugs don't provide a ton of traction on rock. Hiking sandals can work well for water sections, but they really don't work as approach shoes and don't fully protect the foot from unseen dangers underwater or in the desert. Tennis shoes can have terrible traction, especially in water. In precarious situations, from southern Utah slot canyons to tropical wet canyons, sturdy footwear with good traction is essential.
Update: Since publishing this article, Amazon appears to have borrowed some of my recommendations and actually provides some pretty good recommendations

to shoes by Merrell, Astral, Adidas, and others. I've come back to this article each year to update it and add new shoes that are released and adjust my recommendations based on my experience.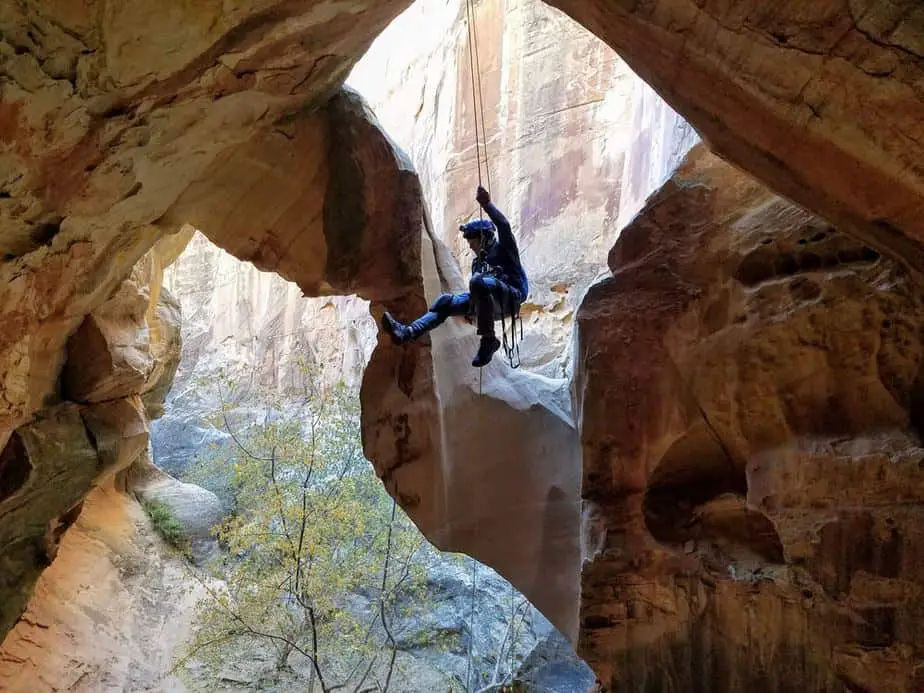 What are the Best Canyoneering Shoes?
Canyoneering shoes need to be able to take a beating. In and out of water, scraping and sliding across sandstone, and miles and miles of hiking. Along the way, they need to provide traction, protection, comfort, support, and drainage. A handful of companies have attempted to make the perfect shoes for canyoneering, but no one has quite perfected it.
La Sportiva TX Canyon Canyoneering Boots
For the last few years La Sportiva has been developing a new canyoneering boot. A lot of canyoneers really liked their TX3 approach shoes (more on those later), but they just weren't designed for use in wet conditions.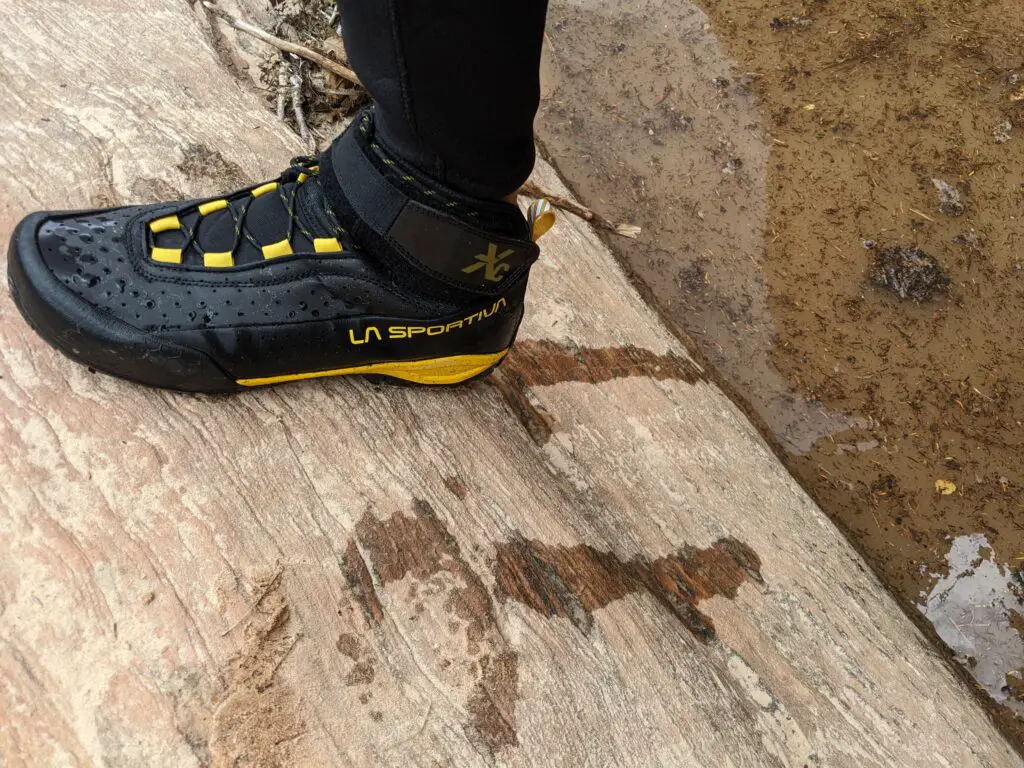 Sportiva took the features that canyoneers loved in the TX3 shoes, and added some of the best features of the Adidas Terrex Hydro Lace shoes to create probably the best shoe for canyoneering on the market- the La Sportiva TX Canyon (view on Amazon)

.
The TX Canyon boots use Vibram climbing shoe rubber that sticks as well as Five Ten's Stealth Rubber, which is really the best stickiness money can buy. The 'last' wraps up around the toes, providing an excellent climbing toe and protecting your feet.
The TX Canyons are new to 2022, so time will tell if they completely take over the market, but they seem to be the best option that is readily available online. That being said, they are pretty expensive if you don't plan on doing a lot of canyoneering, so one of the following ideas might be better for the casual canyoneer.
Adidas Terrex Approach Shoes
Believe it or not, Adidas sells a few pairs of approach shoes/hiking boots that have received strong reviews from canyoneers, such as the Terrex Hydro Lace

(view on Amazon)

. Adidas actually acquired climbing shoe company Five Ten in late 2011, and now owns the patent for their "Stealth Rubber" technology. Stealth Rubber works really well on rock, even when wet.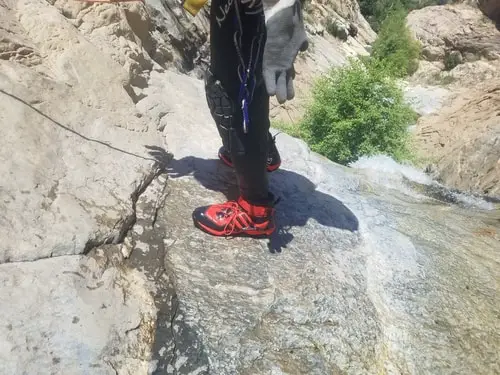 If you go hike the Narrows or the Subway in Zion National Park (see my list of the Top 5 Places to Canyoneer in Utah

), you'll see hundreds of people sporting these shoes (guide companies rent these out). Even though they look like it, they aren't for basketball!
Unfortunately, due to the market size, Adidas usually only sells these shoes in Europe. I don't think I've seen them in stock on Amazon in a couple of years.Occasionally you'll find them on other random websites, or for sale used at guide companies. If they happen to be in stock on Amazon, buy them!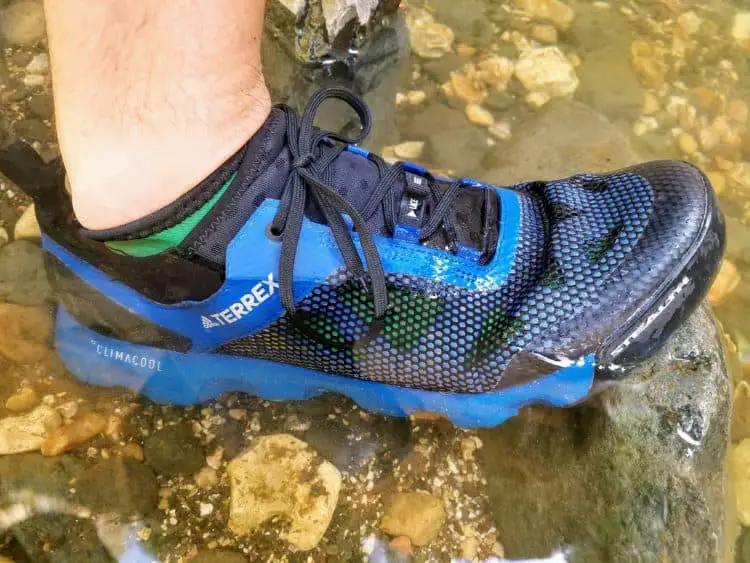 My Choice for Canyoneering Shoes
Up until recently I used a pair of Adidas Terrex Voyager (view on Amazon)

for wet canyons, and they were pretty good. They have stealth rubber soles, and have durable mesh sides that easily drain water. The real problem with them was durability and support. The mesh drained water well, but they really aren't very good for Utah's sandstone and it was hard to trust the stability when stemming a slot.
They're a lot cheaper than other canyoning boots though, which is a plus. I wouldn't recommend them for dry slot canyons with a lot of sand, but they're not bad in wet conditions.
For dry canyons I use the Terrex Scope

approach shoes. You get the comfort of Adidas with the stickiness and toe box of Five Tens. The only major advantage to the Hydro Lace is that it includes a neoprene boot and ankle support.
With the release of the La Sportiva TX Canyons though, I made the switch and have loved the new boots so far.
Five Ten Canyoneer (RIP)
Five Ten uses Stealth Rubber on what was their signature canyoneering shoe, the Five Ten Canyoneer. In 2018 Five Ten announced that they are discontinuing the Five Ten Canyoneer, which was the landmark shoe, so stock up if that's the shoe you like! The shoe meets most of the criteria, but still doesn't quite hit the nail on the head.
The most recent version of the shoe has dealt with a bunch of durability issues, falling apart after just a medium amount of use. While the Five Ten Canyoneer does offer the protection, support, traction, and drainage needed, it is a little bit bulky, not incredibly comfortable, and outside of most people's price range for a limited-use pair of shoes. Again, they work very well as canyoneering shoes, but are a little bit bulky and uncomfortable.
Other Brands of Canyoneering Shoes
A European brand worth checking out is Bestard (Canyon Guide shoe

, Aqua Pro shoe

), though they aren't easy to come by in the US. They're a lot more expensive as well.
A lot of canyoneers like the La Sportiva TX3 (view on Amazon)

approach shoe. They have an excellent climbing toe box and the Vibram rubber is second only to Stealth Rubber. These are one of the most popular canyoneering shoes in the US because they're readily available on Amazon The only downside is that the uppers can wear out because of the material they're made of.
I've written up a full guide to canyoneering shoes with their pros and cons, which you can view here Best Canyoneering Shoes for 2023.

I definitely recommend reading it and evaluating before making your purchase.
Pro Tip– If you think you might encounter water, wear a pair of 2-5mm neoprene socks. They work like a wetsuit for your feet, and are really comfortable. I always hike in with a pair of regular socks and then switch to my neoprene socks when I come across the first water. I wear the Ketos 3mm socks, which you can view on Amazon here

. It's really nice not to have to worry about freezing cold feet while going in and out of water all day.
What Canyoneering Shoes do Professionals Use?
While there may not be such a thing as a 'professional canyoneer' in terms of sponsorships, competitions, and teams, a handful of dedicated people do make this their career through guiding companies. Most guided groups, including those found around Zion National Park and Moab, rent out the Adidas Hydro Lace

Shoes as their default canyoneering shoes.
Sometimes you can get a deal buying used shoes from them. A few other groups use the Bestard Canyon Guide Shoe and the Five Ten Canyoneers, as discussed above. I wouldn't be surprised if we started seeing the Sportiva TX Canyons as guide and rental shoes, especially if they prove to be more durable than the Hydro Laces.
Unless you have $200 burning a hole in your pocket for a pair of shoes you can realistically only use for one activity, I recommend combining multiple hobbies into a couple of pairs of shoes. Different types of canyons, and different conditions require different features, but Approach Shoes are generally the best.
I think you can buy pair of approach shoes that fit the requirements listed above, or maybe even make do with what you already have (see sections about tennis shoes & hiking boots below).
Why are Canyoneering Shoes So Important?
Due to the extreme conditions found canyoneering, good shoes need to have the following features:
Traction: Shoes need to have very good traction when both dry and wet
Foot Protection: Canyons are full of sharp rocks, cactus needles, and most bushes have thorns
Comfort: Jumping between rocks and hiking miles on end will quickly wear your feet out in uncomfortable shoes
Support: It can be very easy to roll your ankle when boulder-hopping, so canyoneering shoes need to provide support
Drainage: When crossing multiple streams and pools, you don't want shoes that hold water
Approach Shoes for Canyoneering
Not to be confused with traditional hiking boots, approach shoes

are a hybrid between comfortable, sturdy boots and sleek climbing shoes. They are designed for Class IV climbing and hiking. Most approach shoes have rubber specifically designed to provide traction on rock, whether wet or dry.
As opposed to climbing shoes, you can wear approach shoes for more than 20 minutes at a time without shedding tears. Because they are more specialized, approach shoes generally have a higher price tag than traditional hiking boots.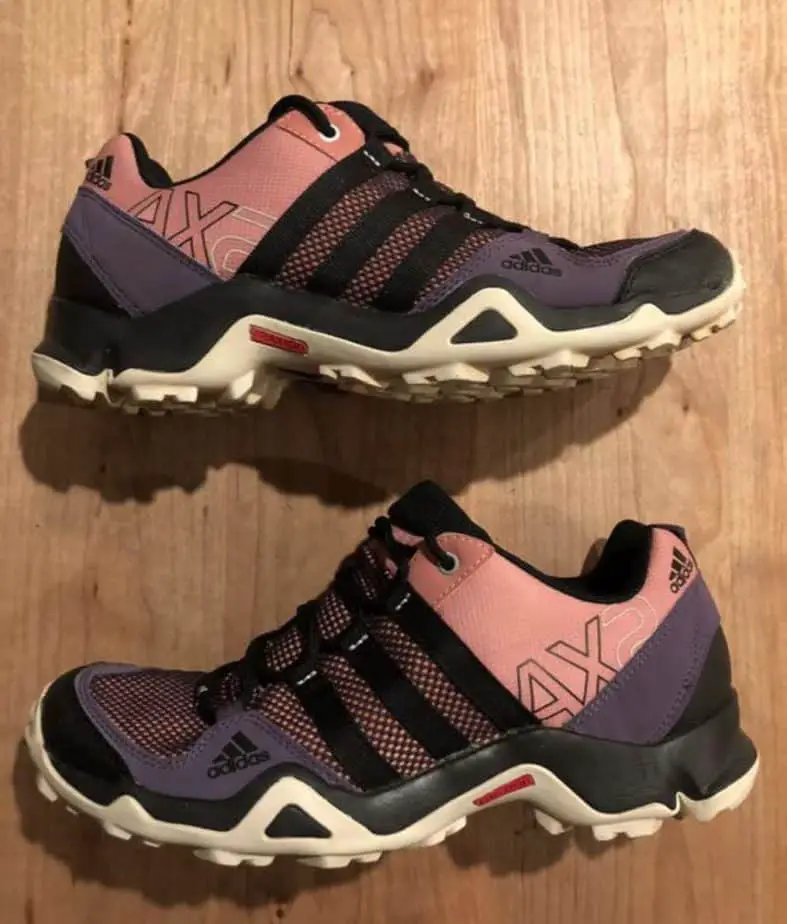 A good option not specifically designed for canyoneering is the Adidas Terrex Scope.

 In fact, I really like all of the shoes in the Adidas Terrex shoe family. I am looking forward to trying out the Terrex Ax2

 as one of my next shoes for canyons with long approaches. You get the stealth rubber of the Five Ten Canyoneers, but with the comfort of an athletic shoe.
La Sportiva, a popular climbing company, makes another solid approach shoe that works well for canyoneering, the La Sportiva TX3

. Keep in mind that La Sportiva shoes are known to be pretty narrow, so plan accordingly.
Another shoe company I have plans to try out is Astral. I like the Astral TR1 Merge

and the Astral Rassler

, designed for expedition kayaking. They claim to have excellent traction with their G Rubber, and even have eyelets built into the upper section so they drain. I think these are my next canyoneering shoes.
Some approach shoes even double as trail-runners, for the ultimate combination of comfort and performance. The only downside to using trail running shoes for canyoneering is that they won't last anywhere near as long as true canyon shoes. If you decide to get a pair of approach shoes for canyoneering, look for a heavy duty pair with reinforced seams and a rubber toe box.
Class A Canyons (Dry Canyons)
In Class A Canyons, you usually have no intention of getting wet. While there may be some standing water or keeper potholes

(I wrote about escape potholes in this article)

early in the year or after a summer monsoon, you will at most wade through them. Hiking boots work pretty well as canyoneering shoes in these canyons, as long as they have grippy soles and are comfortable. Canyoneering is NOT a good time to break in some new hiking boots!
Class B Canyons (Pools of Water
These are the heart of canyoneering. The occasional stream or waterfall, and usually a couple of swimming sections. Shoes need to do everything! Approach shoes, as discussed above, provide plenty of grip, support, protection, comfort, and drainage.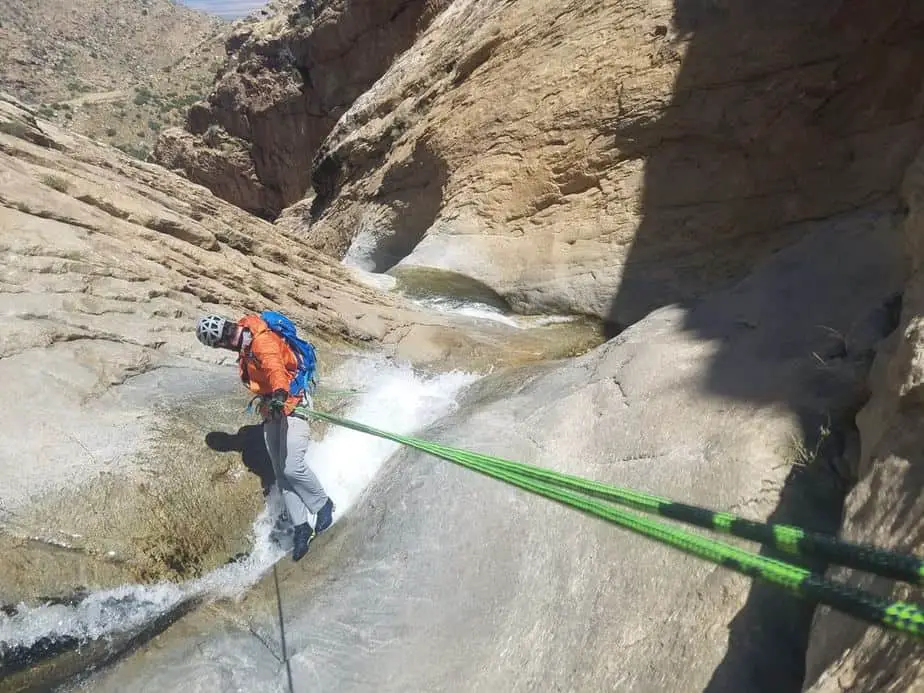 Class C Canyons (Flowing Water)
If you plan on hiking through a river all day, your shoes need to drain really well. In my experience, it's not worth trying to keep your feet dry- it's better to just accept that your feet will get wet and plan accordingly. Like I said, I love my Terrex Voyager

shoes for Class C canyons.
Water flows in and out very easily, as do pebbles and sand. Look for sandals with a covered toe box. You can easily stub your toes on rocks, and open-toed sandals will scoop up canyon mud and sediment, filled with all of its nasty thorns and needles. When looking at sandals, avoid options with mesh covering the sides of the feet, because small pebbles and thorns will enter through the top and won't exit the sides. More on Hiking Sandals ahead-
Socks
As with everything in the outdoors, avoid cotton. Merino wool is the answer for most canyons. Merino wool is extremely breathable, and doesn't hold moisture to your skin like other products. These socks won't turn your feet into saunas either, like regular wool. They are quick drying, and don't have the same scratchy texture that regular socks have. I like the Fox River All-Weather Socks.

For wet canyons, we recommend also adding a layer of 2-5mm neoprene socks

to keep your feet warm. With your feet wet the entire canyon, they can get very cold. This will add a little bit of extra padding if using the 5.10 Canyoneer shoes, and will insulate your feet better against frigid water temperatures. Many canyoneers get a pair of shoes in a little bit bigger size in order to accommodate the neo socks, or even wearing neoprene socks over Merino wool socks.
Check out the article I wrote about what to wear canyoneering

for more information.
Other Alternatives:
For a one-time canyoneering trip while on vacation in Zion's The Narrows in Utah or Cebu's Kawasan Falls, or if you are going for the first time and trying out the sport, you really don't need to spend hundreds of dollars for a pair of shoes. Consider the conditions of the canyon you are going through, and look in your closet! Don't just bring any pair of shoes however; consider the traction, foot protection, comfort, support, and drainage. Here are some common alternatives to canyoneering-specific shoes:
Hiking Boots for Canyoneering
Though unrivaled in terms of foot protection, hiking boots don't usually work well for canyoneering in wet canyons. Boots fill with water and don't drain (especially if waterproof), potentially causing foot problems on a long day. They also take seemingly forever to dry. If you choose to wear hiking shoes, select shoes without waterproofing that have fabric or mesh near the bottom so they can drain. Hiking boots usually have very good traction, even when wet.
The best canyoneering shoes I've ever owned were Nike ACG Pyroclast hiking boots. I didn't buy them as canyoneering shoes, but I ended up wearing them on a February trip through a supposedly 'dry canyon.' We hadn't factored in that Arches National Park still had snow in places! That day I found that the rubber on my shoes became even 'grippier' when wet (and frozen), as I was the only one of my group who could ascend in the difficult places covered in snow.
I had to scramble up class IV and V sections and then be a meat anchor for everyone else to ascend! These have become my go-to canyon shoes since that trip, though they have pretty much worn out now. Unfortunately, Nike discontinued them, and I can't find what rubber they used for the soles. The bottom line is, some shoes that weren't designed for canyoneering will surprise you!
Hiking Sandals
Hiking sandals, such as Tevas or Keens, are the best for draining water and drying quickly. Usually I wear them for Class C canyons, with flowing water throughout. Sandals are already designed to have traction when wet, though they won't offer the same ankle support as a good pair of boots.
When selecting sandals, you need to try on several pairs and ensure that they provide solid support and comfort. Because you can't see through the murky canyon water, you can easily twist an ankle between submerged rocks.
Again, they need to fit very tight and snug on your foot. Sandals also absolutely need to cover the front of your foot, or you will definitely stub your toes on rocks and sticks underwater, or even a cactus (pretty much everything in the desert bites!). For this reason, I completely avoid Chacos for canyoneering.
They don't offer enough support for stemming and chimneying, and definitely don't protect your toes. You can use them as approach shoes, if you like them. I use a pair of Tevas like these

, but only for class C canyons where I am in the water the whole time. Combine your hiking sandals with a good pair of socks to both help the sandals fit better, and to reduce the potential for blisters. For cold water, bring along a pair of neoprene booties

for added warmth.
Tennis Shoes
The most common shoes worn canyoneering, especially by beginners, are old, worn out tennis shoes. Everyone has an old pair lying around that they wear to cut the grass or paint the fence, and they bring them canyoneering so they can get 'trashed.' Yes, canyoneering can really thrash a good pair of shoes.
Tennis shoes usually drain really well, and provide adequate foot protection. You won't find anything more comfortable for a long approach or exit.The only downside with old tennis shoes is traction. They didn't have very good traction to begin with, and now they basically function like ice skates on wet rock. You don't want to wear ice skates around anything with a fall potential! If you decide to wear tennis shoes, test the traction of the soles when wet before going into a canyon. Some shoes still have very, very good traction even though they aren't designed for canyoneering.
What Canyoneering Shoes Should You Buy?
As of today, there is no 'perfect' canyoneering shoe. Everyone has their own individual preferences, and different canyons have different requirements. If you are going canyoneering for the first time, either rent a pair of true canyoneering shoes from a guide company, or make do with what you already have! As you get more into the sport, decide whether you want to spring for a dedicated pair of canyoneering shoes, or something less specialized and more versatile like a solid pair of approach shoes.
When selecting a pair of shoes to take canyoneering, be sure to analyze the following features, as discussed above:
Traction
Foot Protection
Comfort
Support
Drainage
Shoes are an important part of your gear list, but they aren't the only thing you need to bring canyoneering. Check out our post on what gear you need to go Canyoneering

.
What shoes have you had the best experiences with? Any we should check out? Let us know!
See Also:
Is Canyoning Dangerous? Canyoneering Safety Tips

How to Rappel Without Leaving Gear

Top 5 Places to Canyoneer in Utah